Western Union microwave relay sites survey: Part XVI
Site Name: Mt. Holly
Call Sign: KGB38
State: Pennsylvania
County: Cumberland
Municipality: Dickinson Township
Address: Ridge Road (Tower Road)
Type of Facility: Relay
Original Tower Height: 60′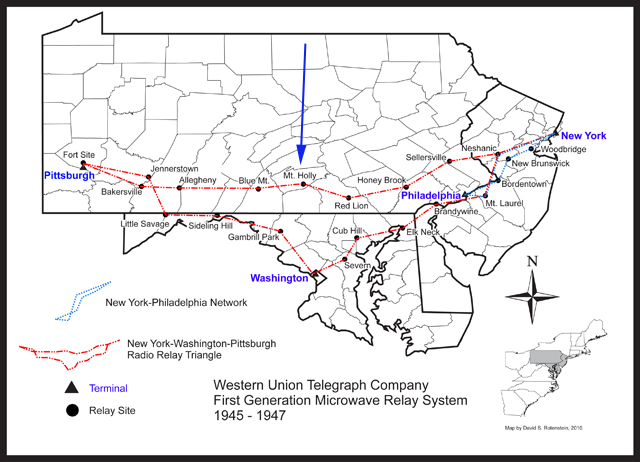 This relay site is located at an elevation of 1,463 feet above mean sea level in Dickinson Township, Cumberland County, Pennsylvania. Western Union's Telegraph Realty Company bought a 1-acre parcel along with a right-of-way linking the new relay site with Ridge Road from Millicent Kitzmiller for $1,000.00.
The realty company transferred title to Western Union in 1947, which retained the property until 1967 when Television and Electronics Service Corporation bought it for $10,000.00. In 1999, Television and Electronics Service Corporation – by then trading as Waymaker Company – sold the site to Pennsylvania Microwave Network, Inc., the property's current owner.
Western Union built a 60-foot tower at this relay site. The tower, cab, and equipment building were intact and still in service by the current owner in 2004. Alterations to the tower include the addition of parabolic and whip antennas plus a mast extending the overall height above the cab stage.
© 2010 David S. Rotenstein
Shortlink for this post: https://wp.me/p1bnGQ-Lp