Elsie Yuratovich (1921-2005) lived her entire life in Pittsburgh's Croatian community along the north shore of the Allegheny River. She lived in a frame house overlooking Pennsylvania Route 28, the railroad, and the disappearing industrial landscape in which she grew up.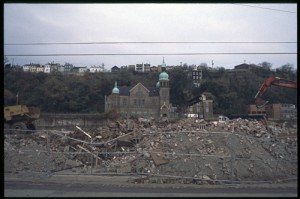 I met Elsie while researching Pittsburgh's leather and livestock industries and we spoke many times between 1996 and 2000. Elsie would send me long letters, newspaper clippings, and photographs. In fact, when the Pittsburgh Wool Company was demolished in 2000, Elsie stood at her beloved Croatian Orthodox Church just above the site and she snapped several photos. Those were the last photos I have of the building I had spent years documenting.
I remember Elsie for her colorful tales of Pittsburgh's history and of her life in the Croatian neighborhood nestled up against the railroad tracks, tanneries, and meat processing plants. She recalled collecting coal from the tracks to heat her family's house and she told me many stories about the men and women who worked in the stockyards and slaughterhouses on Herr's Island.
One thing Elsie never did allow me to do was to record our conversations. She was fiercely protective of her community's history. She took ownership of its story and the community willingly ceded it to her. She became the unofficial living historian of Pittsburgh's Croatian community.
Elsie's proprietary hold over her community's story stemmed from her concerns that the people to whom she told it would not use it correctly. Her community was a working class industrial strip of land where her extended family and neighbors passed the time between shifts at the stockyards or at Heinz by going to church or drinking at Lambros' Lounge or sharing a community meal.
It was a community that existed solely because of its ties to the industries that rapidly disappeared from Pittsburgh as the region turned from heavy and light industry to science and services. Changes to Elsie's community always came from the outside: companies, the government.
People living there had little control over their own lives. But the one thing Elsie owned and which no one could easily wrest from her was her story. Sure, Elsie would freely speak with anyone about her Croatian community. But try to do something more permanent beyond an informal chat about the past and she would demur, citing concerns about "her history."
I always am reminded of Elsie when I see historic preservation and cultural resource management projects in which historians go into communities and mine them for facts to create narratives that bear little resemblance to the past. They don't speak to people in the communities; they don't ask for credible historical sources. These historians slog through digitized newspaper archives and they use other historic preservation documents as the bases for their narratives, interpretations, and recommendations for the preservation and treatment of historic places in these communities.
While working on a recent historic preservation case in Silver Spring, Maryland, I was reminded of Elsie's hold on her community's story. A local historical society had tried to get a church building designated as a local historic landmark. Neither the historical society nor the county agency charged with regulatory oversight of the historic preservation ordinance ever approached the church to ask if the church had primary historical records. No one asked the church for its history.
Instead, the local historical society and the county historic preservation office used digitized copies of local newspapers and online sources to construct a history of the church buildings and congregation that was full of errors and ethnocentric assumptions. The designation documentation did great violence to the church's history. In a recent newsletter, the church's pastor wrote,
It was a sad day for Montgomery County to learn that the body which could point the way to truly historic buildings worthy of preservation gathered bits of information mined no deeper than from old newspaper accounts of our history. Never once did anyone from the Historical Society ever approach the church for access to its records.
Unfortunately, the church's case was not extraordinary in a historic preservation designation paradigm that routinely relies on tautologies to make the case for historical significance. Montgomery County is fortunate to have a staffed historic preservation program and a community filled with passionate and talented historians, architectural historians, and other preservation professionals.
A passionate and talented population, however, is not enough to sustain a viable and defensible historic preservation program. The history in the historic preservation must be accurate. It must be defensible. Local historical societies should be nourished and encouraged because they are community assets. But, they also must be held accountable if their advocacy efforts in regulatory matters adversely affect the community. Spurious historic designation efforts have costs that ripple throughout the community. They undermine all of the benefits of historic preservation and endanger future preservation efforts.
Historic preservation advocates should take great care before they attempt to appropriate any group's history to achieve preservation goals not shared by that community. Historic preservation advocacy groups, like the National Trust for Historic Preservation, Preservation Maryland, and the Recent Past Preservation Network all provided testimony in support of the Silver Spring Historical Society based solely on the research produced by that group. There were no independent evaluations and the historic preservation advocacy community jumped on the save-the-church-bandwagon without the benefit of all the facts. Historic preservation professionals can do better. We must do better if we want our profession to be taken seriously by legislators, planner, and the general public. We must be good neighbors and we must all earn the right to use Elsie's history.
Shortlink for this post: https://wp.me/p1bnGQ-VR