Nineteen forty was a good year for builders and real estate entrepreneurs. The nation was emerging from the Depression and consumer tastes were being influenced by the immensely popular 1939-40 New York World's Fair. Marketing techniques perfected in the 1930s were used to sell modern homes with the latest in appliances, engineering, and construction materials in newly platted suburban subdivisions. One of these new subdivisions emerged at the intersection of East Lake Drive and Third Avenue in what is now Decatur, Georgia's, Oakhurst neighborhood. Dubbed "Edgemoor," the subdivision was touted by its developer as "one of the finest developments to be found in the South."
In May of 1940, the Newbold Development Company bought several large tracts from Robert Stallworth. Originally part of the massive Atlanta Suburban Land Company holdings that included the Poplar Springs subdivision (platted in the 1890s), the land later had been consolidated in 1911 by Mrs. S.A. Corker. Corker presumably had planned to develop a subdivision — her lots are shown in a 1915 DeKalb County atlas — but the project does not appear to have materialized.
Stallworth had bought Corker's properties in 1930 and he held onto them for a decade before selling them to Newbold for $18,300. The Newbold Development Company was founded in Washington, D.C., by Alfred T. Newbold (1894-1967). Newbold began developing properties in the nation's capital before expanding in 1935 to Montgomery County, Maryland, a rapidly suburbanizing county bordering Washington to the north. The limited documentary evidence available suggests that Newbold targeted the growing Atlanta suburbs in early 1940. A Washington Post news brief published July 28, 1940, two months after his company acquired the Decatur properties, noted, "Alfred T. Newbold, heading Newbold Development Co., has been in Atlanta, Ga., on a business visit."
Newbold closed on the Georgia property on May 6, 1940 and less than a week later display ads announcing a new 90-home Decatur subdivision — Edgemoor — began running in the Atlanta Constitution. According to the company's first printed ad,
The general plan will be a big five-room home with attached garage, screened porch, winter air conditioning with a summer circulatory cooling system, 4 inches of rockwool insulation, permanent asbestos roof, and many other custom-built features usually found only in homes of a much higher price.
The following week, the Atlanta Constitution's real estate section reported that Edgemoor would be Decatur's newest subdivision. According to the Constitution, Newbold, "developers and builders of wide experience in the creation of this type of restricted home groups," planned to construct "a distinctly different little village of cozy homes." The new subdivision promised a park, playground, paved streets, and access to "churches, schools, stores and two car lines." All of the homes were to be Federal Housing Administration (FHA) approved and would sell for $3,750 to $4,750.
Edgemoor's setting, the scale of its homes, and their original architectural designs made the new subdivision a good investment, according to its developers. A May 19, 1940 Atlanta Constitution article Edgemoor reported,
A large part of this tract is completely wooded and the streets are shaded with lines of elms. Purchasers of homes here will have complete assurance of the soundness of their investment and the permanence of the standard of value of their homes, knowing that the Federal Housing Administration has used its great wealth of research and practical knowledge in carefully and completely analyzing this project and giving them the benefit of its suggestions and recommendations.
Newbold hired H.G. Jacobs from the Federal Housing Administration. Jacobs was the FHA's Atlanta-based Zone 2 (Southeastern U.S.) chief engineer at the time and he stepped into that role for Newbold. In May of 1940, Jacobs drew a detailed plat for the new Edgemoor subdivision that included topographic contour lines in addition to lot lines and transportation infrastructure. The plat shows the subdivision divided into five blocks with residential lots, a playground, a park, and one new street — Maxwell Place — which made a loop north of the existing Maxwell Street.
Shortly after announcing the proposed development and before construction began in June 1940, Newbold filed restrictive covenants with DeKalb County. The covenants included restrictions on land use, building heights, design, setbacks, and construction materials. They also included construction specifications for new homes and, like many of its contemporaries throughout the nation, Newbold attached racial restrictions to the new properties. The racial restrictions limited ownership and tenancy to whites but made an exception for "domestic servants domiciled with any owner or tenant."
By filing the covenants with the DeKalb County, Edgemoor's owners obviated reproducing them in individual deeds. Newbold memorialized its visions for the developments in restrictive covenants that acted as land use controls in a period before zoning and master plans. Although racially restrictive deed covenants were ruled unenforceable in the 1948 Shelley v. Kraemer Supreme Court decision, the instrument as a whole provides some interesting insights into the exclusive community Newbold hoped to create in South Decatur.
Construction on Edgemoor's first ten homes, located on the south side of the 500 block of East Lake Drive, began in June 1940. Newbold sold its first home, 507 East Lake Drive, to Ronald H. Herd on August 2, 1940. Two days later, the sale was reported in the Atlanta Constitution's Sunday real estate section, along with a photo of the new home.
Edgemoor's developers clearly were attuned to national trends in real estate marketing. Based in Bethesda, Maryland, a Washington suburb, Newbold effectively used local newspapers to run advertisements and as vehicles for announcing progress in the new development. The company used standard marketing conventions such as noting proximity to commercial services, education, and religious institutions as well as language tailored to set Edgemoor's homes apart from others available in the Decatur market.Newbold developed subdivisions throughout Montgomery County, Maryland. Among them were West Chevy Chase, Glenbrook, and Overbrook. The company's experience in the District of Columbia and its suburbs prepared it well for seasonally-timed marketing campaigns in Atlanta's sprawling suburbs.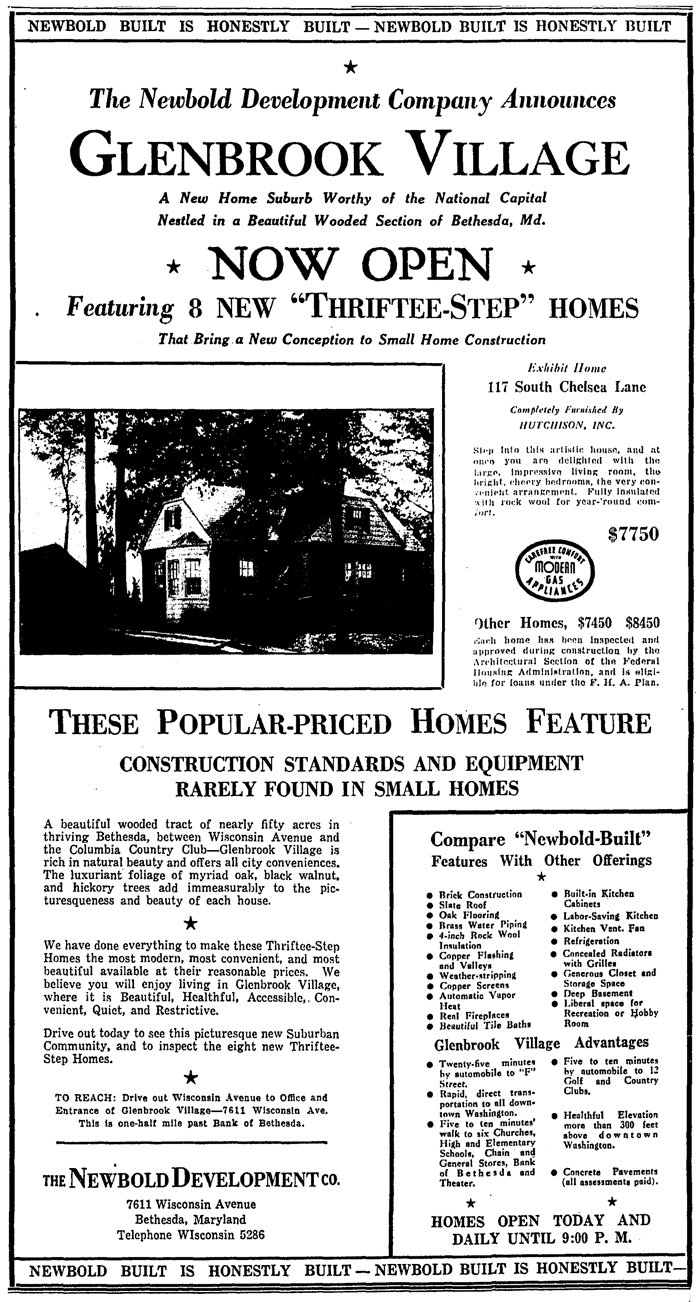 Small homes were among the company's featured product. The Washington Post in 1935 reported on Newbold's "Thriftee-step" homes in the company's Glenbrook subdivision in Bethesda. "Although compact, there is no feeling of being crowded," wrote the Post. Six years later, Washington Post reporter Martha Ellyn commented on Newbold's small homes: "Small houses could — and can — boast of as much individuality as a house twice the size."
Edgemoor's homes were typical small houses. Through the Architects' Small House Service Bureau, American architects since 1914 had been stressing the importance of well-designed and well-built small houses to meet the housing needs of middle class Americans. Another distinguishing architectural feature reflected the increasing importance of automobile commuting. Each of Edgemoor's homes included attached, front-facing garages.
An ad published in the August 11, 1940 Atlanta Constitution pictured the typical Edgemoor "lovely home": 515 East Lake Drive.
As soon as Newbold completed its first construction phase in August 1940, the company bought additional property west of Third Avenue and south of East Lake from J.A. McCrary. McCrary's property had been subdivided in 1921 and there already were several homes built within the development. By October 1940, Newbold's Edgemoor ads were announcing the start of the second construction phase in the former McCrary tracts.
Also in 1940, the company moved on to other Atlanta metropolitan area subdivisions, including Oakland Park at Campbellton Road and Oakland Drive. In 1941, Newbold began work on a 100-acre project, Wildwood, on Howell Mill Road in Atlanta. The Wildwood development was such a large undertaking for the company that in May 1941 it relocated its downtown Atlanta office to Howell Mill Road.
It appears the outbreak of World War II interrupted Newbold's plans at Edgemoor and many of the company's planned community amenities were never realized. One month after the outbreak of World War II, one of Newbold's executives, former FHA zone manager John Dutel, returned to government service to manage military housing.
The proposed playground to have been built behind the homes on the north side of East Lake Drive ultimately became Oakhurst Park. The proposed park west of Third Avenue is now occupied by the Boys and Girls Club and the Oakhurst Dog Park. Most of the remaining Edgemoor lots were built out after the Second World War. An aerial photograph taken in c. 1947 shows many of the lots along East Lake Drive and Third Avenue improved, with homes on them. Oakhurst's modern suburban landscape in this section appears to have fully crystallized by this time. Sanborn Map Company fire insurance maps updated in the early 1960s illustrate the area as it ultimately developed.
Edgemoor was a planned development created to provide affordable housing in a subdivision that could provide the amenities of more elite Atlanta area suburbs, like Druid Hills, and intown neighborhoods like Candler Park in small, modern, yet economically designed homes. At first blush Edgemoor appears to be historically significant because of its planning and ties to national trends in suburbanization. The development's ties to Washington, D.C., real estate developers who helped shape national marketing and construction practices underscore its apparent significance. Edgemoor warrants further exploration because of its location in space and time. Its planning and development anticipated the postwar suburban building boom that populated Atlanta and its suburbs with ranch houses and other modern housing.
For more information on historic residential suburbs and how they teach us about the past and inform us for the future, read the National Park Service's 2002 report, Historic Residential Suburbs: Guidelines for Evaluation and Documentation for the National Register of Historic Places.
The Oakhurst Neighborhood Association published an updated version of this post in its July 2012 Leaflet newsletter.
© 2012 D.S. Rotenstein
Shortlink for this post: http://wp.me/p1bnGQ-1iG