Oakhurst does not fit any colloquial or technical definition of "food desert" — "L.T.", August 4, 2012
L.T.  is a 30-something software professional who describes himself as an "amateur economist" in his Twitter profile. He wrote several comments on this blog reacting to a June 2012 post on Oakhurst's food desert. He strongly objected to my description of his neighborhood as a "food desert."[1]
After several comments on the blog and private emails, L.T. admitted, "I had never heard of a food desert before you posted about it. I'm just a guy who can read and do math."[2] This post responds to L.T.'s assertion that Oakhurst's hip bars and eateries and an overpriced boutique market preclude his neighborhood from being described as a "food desert."
L.T.'s major beef seems to be with citing the U.S. Department of Agriculture's food desert definition, which in his opinion cannot include Oakhurst. As a math whiz, L.T. turned to U.S. Census data to make the point that Oakhurst does not qualify as a low-income neighborhood.
True enough, now that upper-middle-class whites replaced the low-income African Americans who once lived in the small houses that defined Oakhurst's architectural identity, the census tract is wealthier, whiter, and better educated. Despite the best efforts of builders and young families jockeying to buy new McMansions so their kids can attend City of Decatur schools, many low-income people still live in Oakhurst and they do struggle to put affordable nutritious food on the table.
To answer L.T.'s concerns, I'll use a more inclusive "food desert" definition and I'll briefly show how Oakhurst fits well within its four corners. According to a 2006 report commissioned by LaSalle Bank, food deserts are at their basic form, "areas with no or distant grocery stores."[3] Community development author Tony Proscio expands on this definition in a 2006 report on healthy communities: "places where sources of food are few, expensive, distant, of poor quality, or some combination of these."[4] And, Decatur's neighbor to the west, Fulton County, also uses a simpler and more inclusive definition: "Large geographic areas where mainstream grocery stores are scarce or missing."
Up until the opening of a new Family Dollar store in Oakhurst last week, there were no places where people without cars or access to reliable transportation could get affordable and nutritious groceries in Oakhurst. Sure, the Oakhurst Market, which opened in 2011, sells gallons of milk for $7.49 and has designer cheese and meats. And there are two convenience stores, the Hop and Shop and the Oakview Market. None of these stores, however, can provide low-income households with the essentials for daily nutrition.
L.T. seems to think that the designer bakeries, bars and other Oakhurst eateries can meet all of Oakhurst's residents nutritional needs. According to L.T., what they can't get in one of the local establishments, Oakhurst's economically disadvantaged and elderly can hop on MARTA or walk to a local farmer's market. "Oakhurst is served by MARTA rail, buses and over 90% have cars," wrote L.T. in an email.
Oakhurst has been a food desert since the late 1970s when the Colonial Stores grocery, which had done business in South Decatur since 1950, closed its East Lake Drive location's doors. After sitting vacant for several years, the former Colonial site was occupied by the Big H store: a market that sold substandard food at usurious prices before closing around 2000.
Oakhurst residents who have lived in the neighborhood for as long as 50 years, before it was called Oakhurst, describe the neighborhood as a food desert without deploying the words. Louise Jackson, a longtime Oakview Road resident, described shopping difficulties in this Spring 2012 interview:
When I first moved here, Big H used to be Colonial Store. And then Redding Drug Store was right in the fork, in there where the shoe place, right. It was a Redding Drug store, pharmacy. And see all this stuff is gone. We don't have anything in Oakhurst like the grocery store. We have to go to Publix, go out to Kroger, Commerce. We have to go to drugstore. We have to go out to Candler Road, Rite Aid, CVS. Everything. Shoe shops, you have to go. It's nothing right here but we've got all the restaurants, which is fine, but we don't have no stores, grocery stores.[5]
While the Big H was open, Oakhurst residents with access to transportation and the resources to shop elsewhere did so. "Not often but I did for things," recalled urban homesteader Ida Fudge. "I still went to I think it was Wayfields over on Candler Road and Winn Dixie … Something else was in downtown Decatur that I would go there for my basic shopping."[6]
Nibs Stroupe, pastor of the Oakhurst Presbyterian Church, moved to Decatur in 1983. He recalls the struggles to provide the neighborhood with affordable and nutritious food. "There was a little Big H store that a Korean family ran," Stroupe recalled in a January 2012 interview. "But that was the main source for many elderly folks who didn't have the energy or the money to get on the bus and go. But there was a grocery store in downtown Decatur but the Big H was the main source for many folks."[7]
Stroupe described how his congregation created a food cooperative where Oakhurst residents and congregation members, like Elizabeth Wilson, helped to distribute food obtained under a USDA program to provide surplus agricultural commodities to disadvantaged neighborhoods. "When we first came, they would bring in thousands of pounds of cheese and bread and butter and stuff and we would give it out here several times a year in the neighborhood," Stroupe said.
In July 2012 I asked urban redevelopment professional Lorraine Mills, whose office is based in the historic Scottish Rite Hospital building, if she considered Oakhurst a food desert. "Basically, yes," she said. "But yeah, after the Big H closed, other than going to the Hop and Shop or to [Oakview Market] … there's really not anywhere else to buy food in this neighborhood." [8]
Oakhurst may be hip and trendy but it's far from sustainable or healthy. "The first measure of quality for any community is how well it provides for life's necessities, beginning with shelter and food," wrote Proscio in his 2006 report.[9] Oakhurst (and its host community, Decatur) does well at providing the amenities but fails at providing the necessities. I began this post with a quotation from L.T. and I'll close it with another:
I'm glad that you're revisiting this issue as it seems that, at minimum, some correction is in order. If I were writing about it, I would tell the story of how, in 2000, Universal Joint opened and helped revitalize the community, transforming a food desert in the vibrant community it is today. i.e. how the creation of a "pub shed" helped erase the food "desert". That's a story that fits the data.[10]
Notes
[1] " I realize that might meet some strict technical definition of "food desert" but personally I think it's silly to apply that term to a neighborhood that has two small grocery stores in walking distance (including the excellent Oakhurst Market at its center) as well as convenience stores, restaurants, bakeries and a farmer's market. And there isn't a single fast food joint." L.T., comment, June 25, 2012.
[2] L.T., Email to David S. Rotenstein, August 5, 2012.
[3] Gallagher, Mari. Examining the Impact of Food Deserts on Public Health in Chicago. Chicago, Illinois: LaSalle Bank, 2006.
[4] Proscio, Tony. Food, Markets, and Healthy Communities: How Food Stores Accelerate Local Development and Enrich Residents' Lives. New York, N.Y: Local Initiatives Support Corporation (LISC), 2006.
[5] Louise Jackson interview, March 29, 2012.
[6] Ida Fudge interview, January 3, 2012.
[7] Nibs Stroupe, Interview, January 18, 2012.
[8] Lorraine Mills, interview, July 19, 2012.
[9] Proscio, Food, Markets, and Healthy Communities
[10] L.T., email, August 5, 2012.
Postscript (March 2013):
After this post was published, an anonymous Decatur resident wrote on Twitter, "Food desert. Ya. LOL." Meanwhile, L.T., wrote in December 2012: "I couldn't imagine a lush and vibrant community like Oakhurst could be described as a food desert, which is a term coined to describe blighted neighborhoods served mainly by convenience stores and fast food restaurants." Compare L.T.'s comment to the Food Empowerment Project's multi-pronged definition of a "food desert" (emphasis added):
Food deserts can be described as geographic areas where residents' access to affordable, healthy food options (especially fresh fruits and vegetables) is restricted or nonexistent due to the absence of grocery stores within convenient travelling distance. For instance, according to a report prepared for Congress by the Economic Research Service of the US Department of Agriculture, about 2.3 million people (or 2.2 percent of all US households) live more than one mile away from a supermarket and do not own a car. [1] In urban areas, access to public transportation may help residents overcome the difficulties posed by distance, but economic forces have driven grocery stores out of many cities in recent years, making them so few and far between that an individual's food shopping trip may require taking several buses or trains. In suburban and rural areas, public transportation is either very limited or unavailable, with supermarkets often many miles away from people's homes.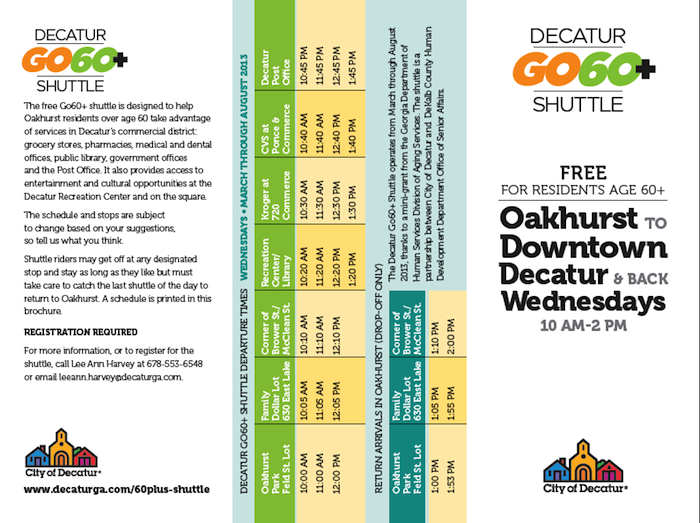 In March 2013, the City of Decatur began a trial weekly municipally-funded "Golden Shuttle" to transport elderly Oakhurst residents to downtown Decatur where they could shop for groceries and other essentials.
© 2012 D.S. Rotenstein
Shortlink for this post: https://wp.me/p1bnGQ-1wX