[Ed. Note: This was originally published in September 2012.]
My wife and I went to sleep one night in 2011 and awoke in a Twilight Zone episode. Back in 2007, anti-preservation activists settled for yard signs, rude emails, and disappearing blogs. Today residents in Decatur, Georgia's Oakhurst neighborhood who oppose historic preservation and who defend destructive gentrification in their neighborhood anonymously use Twitter and other social media sites to settle scores with folks with whom they disagree. They create and post vulgar and defamatory animated videos that offend their more sensible neighbors and demean their entire community.
As of this writing, Twitter has suspended three "fake" accounts (the status of a fourth is undetermined); complaints have been filed against others and remedial action by Twitter may be pending against them. Sure, people — myself included — use Twitter for mischief sometimes. Parody accounts and other legal uses abound. But there is a bright line between innocent, albeit boisterous, posting and harassment and defamation. The people in Decatur behind these accounts have crossed that threshold.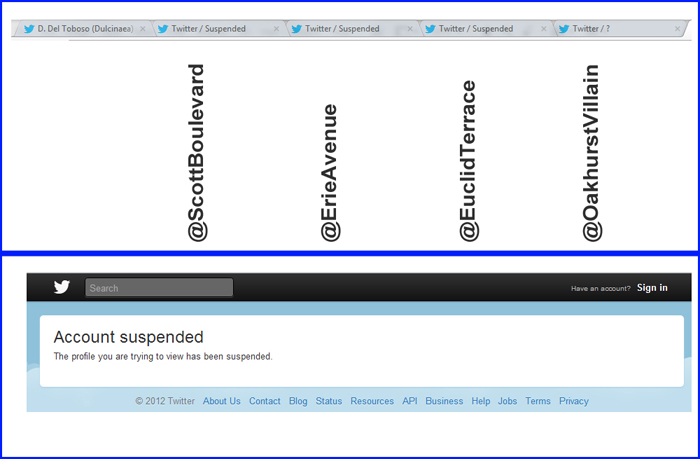 We have invested many, many hours communicating with law enforcement (local and federal), attorneys, and with Twitter attempting to put an end to more than six months of cyberstalking and harassment. Since March 2012, my wife and I have been subjected to electronic surveillance of our social media accounts; our colleagues have been contacted by individuals using the fake Twitter accounts; our home address has been used as a Twitter profile name along with direct links to our county tax records that contain personal information; my blog has been hacked and content replaced; and, we have been called some of the most offensive names imaginable.
On its face, the appearance of these accounts, multiple anonymous comments left at other blogs, and the creation of a short-lived blog to "expose the inconsistencies and wrongheaded agenda of David Rotenstein" (@OakhurstVillain, May, 2012) would appear to be the work of people robustly defending their neighborhood as someone was writing things with which they disagreed.
In fact, the malicious behavior all stemmed from my call March 6, 2012 for the City of Decatur to issue a six-month moratorium on demolitions in the Oakhurst neighborhood and to re-evaluate its flawed and incomplete 2009 historic resources survey along with the City's environmental sustainability goals before more Oakhurst homes got sent to landfills. By the first week in March, we had seen more than a dozen homes torn down within a half-mile of our Decatur home and new faux Prairies and Hardiplank-clad foursquares more than twice the size of the teardowns and neighboring homes were sprouting like weeds. After nearly 30 years in history and historic preservation, what I was watching was unprecedented in my professional opinion and personal experiences living in many neighborhoods very similar to Oakhurst. Familiarity and love for the type of historic buildings and landscapes that characterized Oakhurst were the reasons behind our decisions in the past to select neighborhoods in which to invest, purchase homes, live, and be active community members in local government and civic organizations.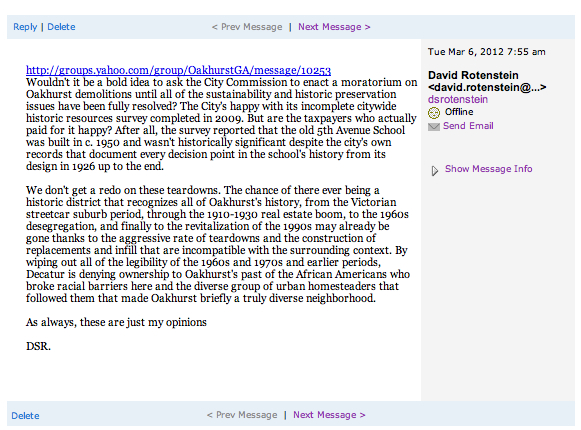 When I made that suggestion, I did not — as many Oakhurst residents subsequently claimed — call for creating a local historic district that would cover the entire neighborhood and halt all new development. All I wanted was a thoughtful and comprehensive evaluation by city leaders before too many more homes were demolished and new McMansions built. Add to those concerns the education I was getting on local developers' practices harassing elderly residents into selling their homes and the crushing property tax burden fueled by the new development under which the elderly must live and yes, I was outraged that my then-neighbors and city leaders would not seriously entertain a time-out from the teardowns and development.
Although Georgia law considers individual instances of cyberstalking and harassment a misdemeanor (O.C.G.A. §16-5-90), cumulatively the many instances we have documented hopefully will be prosecuted as felonies; and, the implied communication and collaboration among what appears to be multiple individuals demands closer scrutiny by law enforcement officials.
Our experiences with Decatur's cyberstalkers should be a cautionary tale for anyone who finds themselves on the receiving end of unlawful and abusive behavior facilitated by social media services like Twitter. After the 2012 election, my wife and I will begin contacting our elected representatives to lobby for greater law enforcement oversight to make social media sites like Twitter more accountable for the conduct they enable and to make it easier for victims to file complaints and to stop abusive conduct that includes surveillance, defamation, intimidation, and harassment.
###
Update (September 10, 2012): Less than one week after Twitter suspended the @ScottBoulevard account for posting the link to our tax information and for violating our privacy, the account was reactivated: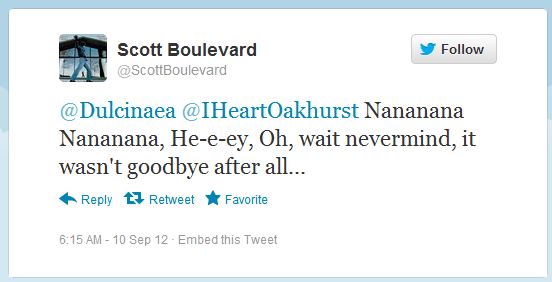 ###
Update (May 2013): I wrote about identifying one of the cyberstalkers at Like the Dew, a regional blog. After the article was published, a DeKalb County magistrate issued a restraining order against one of the parties, Angela E. Wynne (a.k.a. @IHeartOakhurst, @Yippiyuk, and "Alice Ambergoso"), under Georgia's stalking law (DeKalb Superior Court Case No. 13CV5700).
© 2012 D.S. Rotenstein
Shortlink for this post: https://wp.me/p1bnGQ-1DX