Developers paid better than the corn / But this was not the place where they were born — John Gorka, "Houses in the Fields" (Jacks Crows, 1991)
After the fall of 2011, each time I passed through the intersection of Ansley Street and Greenwood Avenue in Decatur's Oakhurst neighborhood, Neil Young's song title immediately popped into my head, along with the lyrics from two tunes on John Gorka's 1991 album, Jack's Crows. On the hill overlooking the intersection is Liz and Rob Broadfoot's 2,800-square-foot home. Its historically inspired projecting bays and exaggerated Craftsman details look out over Oakhurst's smaller homes conveying an air of conspicuous consumption and privilege.
In July 2011, my wife and I bought the Broadfoots' former home at 316 Spring Street in Oakhurst. Built in 1925 or 1926, the one-story frame cottage with subtle Craftsman details was one of several homes along the south side of Spring Street built contemporaneously by real estate speculators. The home had multiple owners throughout its history, including a brief stint in the 1970s — like many other South Decatur homes — in H.U.D.'s inventory. By the time the Broodfoots sold the house to us, they had outgrown the original home's space as well as the large, yet historically compatible addition they had built to the rear.
Rob Broadfoot wrote about his family's decade-long Oakhurst housing odyssey in a comment to an earlier post on this blog. "Here's my story, for the opinion it's worth," Broadfoot wrote in March 2012.
My wife and I moved to 1426 Oakview Road in OAK in July of 2001. It was a charming 2br/1ba home. The home had one tiny bathroom in the center, and with our first baby girl on the way, we undertook a small addition project and added a master bathroom. As our daughter (and number of dogs) grew, so did our need for space.

In 2005, we moved only a few blocks away to 316 Spring Street, between Oakview and Fayetteville. When we bought the house, it was a very modest 2/1. We immediately underwent an extensive addition, including a new kitchen, mudroom, master bedroom and bath, living room, and a beautiful screened porch off the back. We worked with a local architect and builder, taking great care to leave as much of the existing home as made sense, and marrying the new addition to the old. I believe we succeeded. In the end, the sum total of the house is roughly 60/40, new versus original construction. We loved that house.
So did we. That's why we bought it.
Yet, an anonymous tweeter using the handle @OakhurstGossip wrote obnxiously in March 2012, "@DavidRotenstein's house is larger than his neighbors and and [sic.] only 276 sq ft smaller than @kcboyce house." Yes, area-wise, it was larger. But its increased mass was not visible from the street; a second story did not loom over the neighboring one-story homes; and, the addition was architecturally compatible — distinct from the original massing yet sympathetic to it — from the original 1920s home. It was the type of addition that could be accomplished inside or outside of a historic district that did not require the demolition of an existing home and the concomitant social costs. The Spring Street home's environmental tab was settled long before the Broadfoots or my wife and I were even born.
The person calling himself/herself @OakhurstGossip celebrated Rob's narrative documenting the Broadfoot Oakhurst housing odyssey in another tweet: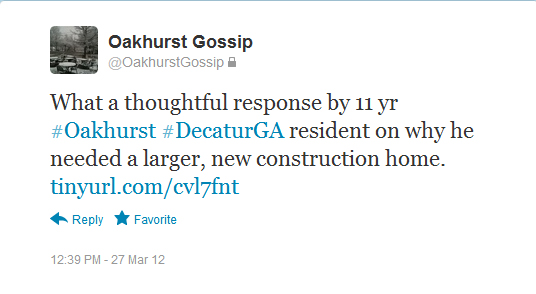 Rob Broadfoot continued in his March 2012 comment:
In Spring 2010, we began looking around the OAK for our next home. Given the inventory at the time for larger homes in OAK, we had a very hard time finding something we liked and that fit our needs. Once again, leaving the OAK was never a consideration. After a year of searching and waiting, we began to entertain the idea of building something. We met with a local builder, Thrive – a builder of one of the "McMansions" you so often refer to with disdain, and really liked both the owner of the company and his homes. We happen to like the style of his houses and the notion of building in a neighborhood we'd helped to develop (in our own little way) and support over the past decade. The lot upon which we built had already been purchased by the builder, and his plan was to tear down the existing house.
The home at the site where the Broadfoots moved was demolished in 2011. According to the 2009 citywide historic resources survey, it was an American Small House built in 1931. Its condition, according to the evaluating architectural historians, was "fair" and it was determined to contribute to a proposed Oakhurst Historic District. DeKalb County tax records showed that it was a 1,085-square-foot building rated "average." Rob described their new home:
We now have a house that you would most certainly criticize, and in fact, already have in multiple posts. It is large, with almost 2,980 square feet. It has a detached, two-story garage behind it. One day I will build my music room up there in hopes to further my own hobby and my girls' music education. My daughters have a bathroom they can share, their own rooms, and even a playroom where they can entertain themselves and their friends. We have a screened in back porch with a fireplace. We can see plenty of trees around us. We have great neighbors. We like to think maybe it's not too cookie cutter – it's purple and blue and is filled with our unique style. But you will say it is, and that is just fine by me.
The contract we executed to buy the Broadfoot home included a clause allowing them to leave their children's playset in the backyard until the new home was completed. When the time came for Liz and Rob to move into their new manse, Rob came over to measure the playset; it was too large for the remaining open space in their new lot. We agreed to work with him and Liz as they found a buyer to come and take the abandoned playset. Not only did we hold onto the set but when the time came for the new owner to take possession, I had to assist him and his wife in disassembling the unit and loading it onto their truck. It was something I would do for any neighbor.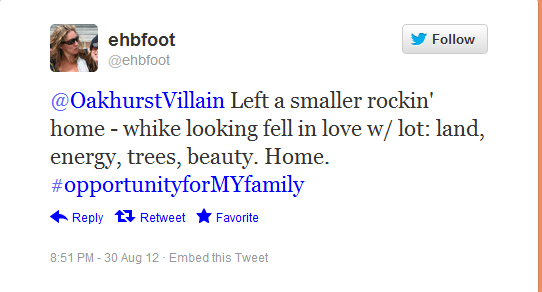 Rob is right. I have been critical of their new historically inspired home. Besides being out of character for the neighborhood in style and in scale, its construction required sending a home to a landfill for two purposes: to enrich the builder and to provide a privileged perch for Broadfoot Manor. The neighborhood benefited, wrote Rob, as much as his family:
Am I right in building the house I did? The only person that can truly answer that is me. And it's a resounding yes. Is the development of larger homes right for the neighborhood? If they are right for the people who buy them and take care of them, then yes. Has OAK changed over the past decade since we first arrived? Absolutely. Such is nature. The OAK fits our family, our lifestyle, and allows us to continue to support the community we thoroughly enjoy and support – from my tax dollars to beers with my buddies.
Okay Rob, that's your perspective. Here's mine. You removed another small house from the marketplace, foreclosing on another family's opportunities to follow in your footsteps. This point is something your wife seems to find amusing.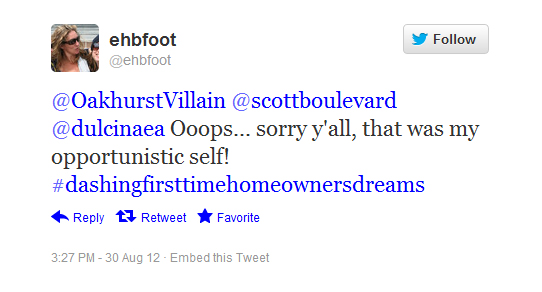 You also contributed to a waste stream by sending somewhere in the neighborhood of 30 thousand pounds of debris to a local landfill. Add to that the carbon used to haul the waste and to build your new 2,800-square-foot home. And then there's the added energy costs to cool and heat the larger home. But what about the future of your new home? What is the lifecycle analysis of the structure? Will it last long enough to repay the carbon costs expended in its construction? Will it be as durable as the small, 1930s home demolished to enable its construction? Only time will tell. If the studies of contemporary building materials and techniques are valid, and many people believe they are, your home likely will not be standing in 50 years — a period less than the lifespan of the home your builder demolished.
Now let's look at some of the social costs your house, and the neighboring one built at the same time (also on a teardown site) by the same builder, impose on the community. Cumulatively, both properties will contribute towards increasing the property tax burden on your elderly, less-economically-advantaged neighbors. Located on a hill, the added impervious surface areas likely altered long-standing stormwater drainage patterns, too. If they did, they exacerbate Oakhurst's perpetual battles with water moving through the neighborhood's yards and streets towards intermittent streams.
Speaking of social costs, let's explore two words that so many of your neighbors hate: "historic preservation." In 2009, the City of Decatur paid consultants $35,000 to identify historic properties throughout the city. Let's assume that the paid consultants and the City's historic preservation planner were correct in their evaluations — I think they made some mistakes, including the omission of African Americans and their heritage sites from the survey as well as the dubious delineation of an Oakhurst Historic District but that's irrelevant right now. The City's pleased with the product it — you — bought so that's all that matters. The consultants identified the home that your builder demolished as a property that contributed to the so-called Oakhurst Historic District. If that was the case, then the City's expert consultant and the City considered the old home historic. By demolishing that home, your builder deprived the community of a property that contributed to the overall significance of the proposed Oakhurst Historic District.
Some of your neighbors don't hold the scale and architectural embellishments of your home in as high esteem as you and your wife. They value the sense of place created by a neighborhood of old, small homes and lament the loss of those homes. In fact, one of your new neighbors found a creative solution to accommodate the need for more space without tearing down their existing home and I wrote about it in 2011 in AOL's local McBlog.  But, as you wrote, if it's right for you, what does it matter to anyone else?
That's where we differ in values, Rob. We sold your former house on Spring Street exactly 11 months after buying it. We moved to a neighborhood that values its historicity in deeds beyond marketing slogans. We've been here two three months and have yet to see a home sent to a landfill; we cannot say the same about our first two three months in Oakhurst. Yes, as your wife and her truculent anonymous Twitter playmates have written, Laura and I are indeed white and in some respects we are privileged to live in a large, albeit historically authentic, and pricey home. But, our home did not impose the same social costs on our neighborhood, region, and ultimately, the planet as your large and pricey home. But I kind of doubt you'll explain that to the kids when you tell them the story of how you got to live in the mansion on the hill and how their playset got replaced by the wonderful interior spaces you created for them.
Update (Oct. 5, 2012): From the Oakhurst Neighborhood Association list. I guess this is my answer about the playset. Perhaps Broadfoot can find someone to fabricate a new playset from recycled materials to compensate for the house his builder sent to a landfill. Perhaps it will be "historically inspired" like Broadfoot manor:
—–Forwarded Message—–
From: broadfootrobert
Sent: Oct 5, 2012 12:31 PM
To: OakhurstGA@yahoogroups.com
Subject: [OakhurstGA] Custom playset

Anyone know of a good contact/resource for the design and build of a custom treehouse/playset?
It happens when the money comes / The wild and poor get pushed aside — John Gorka, "Where the Bottles Break" (Jacks Crows, 1991)
© 2012 D.S. Rotenstein
Shortlink for this post: https://wp.me/p1bnGQ-1CG