That's precisely what a group of developers and third-wave gentrifiers did back in 2007 when they created One Oakhurst to gin up opposition to the creation of a proposed Oakhurst local historic district in Decatur, Ga. Several of the folks behind One Oakhurst were web-savvy IT professionals who created untraceable anonymous email accounts and a blog that successfully avoided caching by search engines like Google.
Once One Oakhurst succeeded in killing the historic district effort, its blog disappeared along with most of its electronic footprints. One Oakhurst's traces may still be seen around Oakhurst. Two of its "Historic District is not the Answer" yard signs remain firmly fixed in East Lake Drive yards and residents collected One Oakhurst's anti-preservation propaganda.
Now, nearly six years after the failed historic district effort McMansions are rapidly rising throughout Oakhurst. They replace the neighborhood's smaller homes that are sent to landfills to enrich builders who buy-off the community through festival sponsorships and other gestures meant to project a false sense of community. "And then there were some developers who obviously were very against it. "Arlene Dean, who's tearing down the houses and putting up wedding cakes. She was very vocal. Her architect was very vocal," said DS, a preservation supporter.*
One Oakhurst's tactics tore the community apart. Its members lied to elderly residents and manipulated long-simmering ethnic tensions and stereotypes of the neighborhood's gay community to build opposition to historic preservation. "They said hurting values to the white people and they said to the old black people that they're going to make you, force you to do things to your house that couldn't afford," DS recalled.
"These older ladies didn't quite understand what was going on," DS continued. "It's kind of like watching television every day and a silly show but, I would say good versus evil. The good is honest and the evil is not. And there were a lot of people who would say anything to old people to get them scared. It's easy to make an old person scared." DS added, "People were not nice or honest, in my opinion."
DS recalled one episode where a local land use attorney now serving on the city's Board of Zoning Appeals, made a rude sound when a preservation advocate was speaking at a public meeting. "Kyle Williams was against it and literally, I watched him snake hiss at Joy [Provost] when she was speaking," DS said. "I thought snake hissing at a fellow neighbor is just a little bit over the top."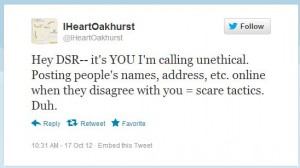 One Oakhurst's members and followers called the preservation advocates liars and unethical. Litigation was threatened and rude notes were left in mailboxes. One Oakhurst's legacy is evident five years later in the posts by anonymous tweeters like @OakhurstGossip, @OakhurstVillain, @Dulcinaea, and @IHeartOakhurst.
Some of the people with whom I have spoken over the past year have kept the flyers, letters, and postcards One Oakhurst produced and sent throughout Decatur. Here is a sample of some of the scare tactics used to defeat historic preservation in 2007.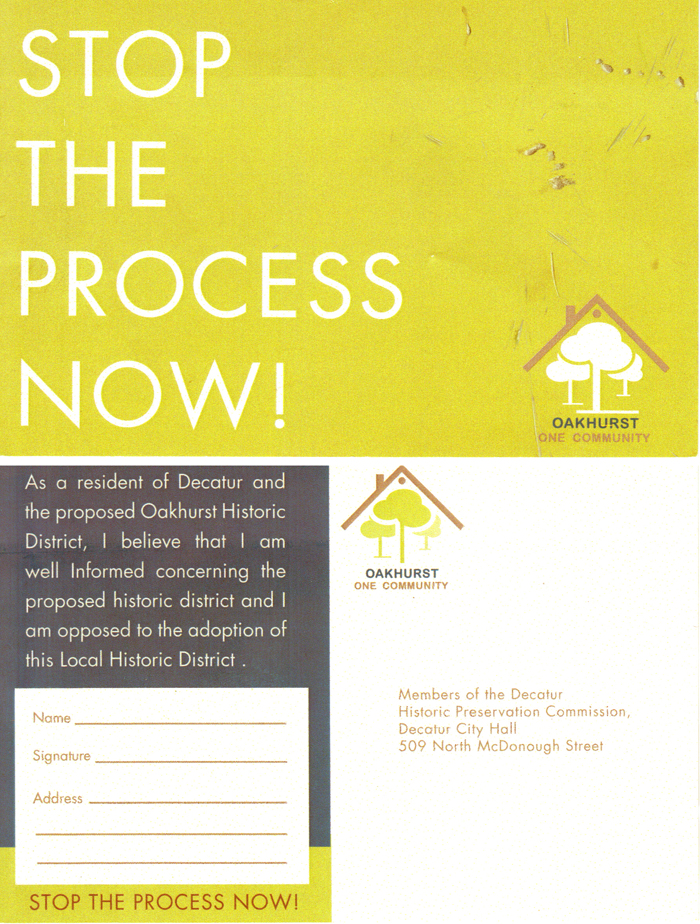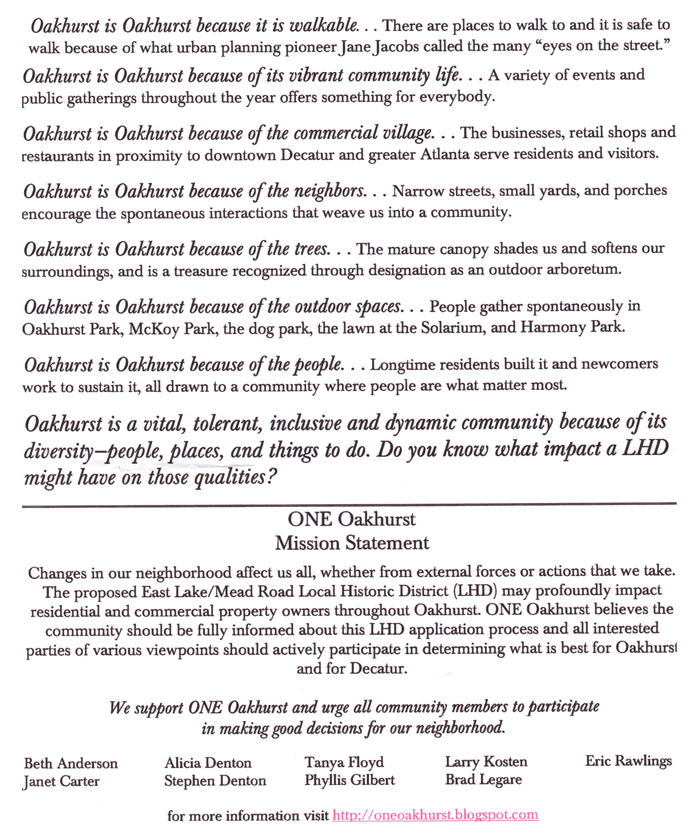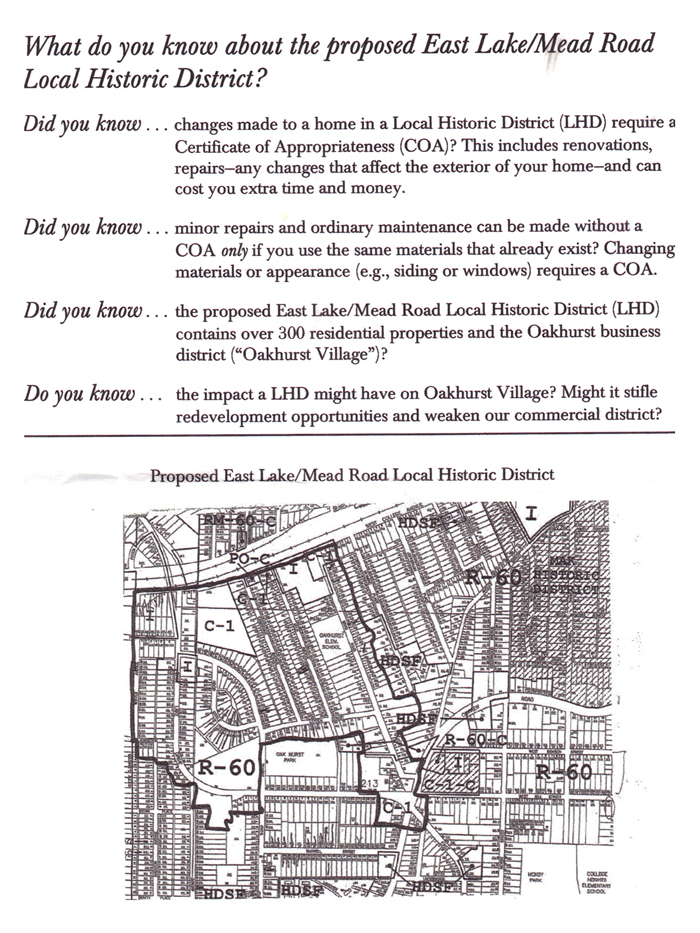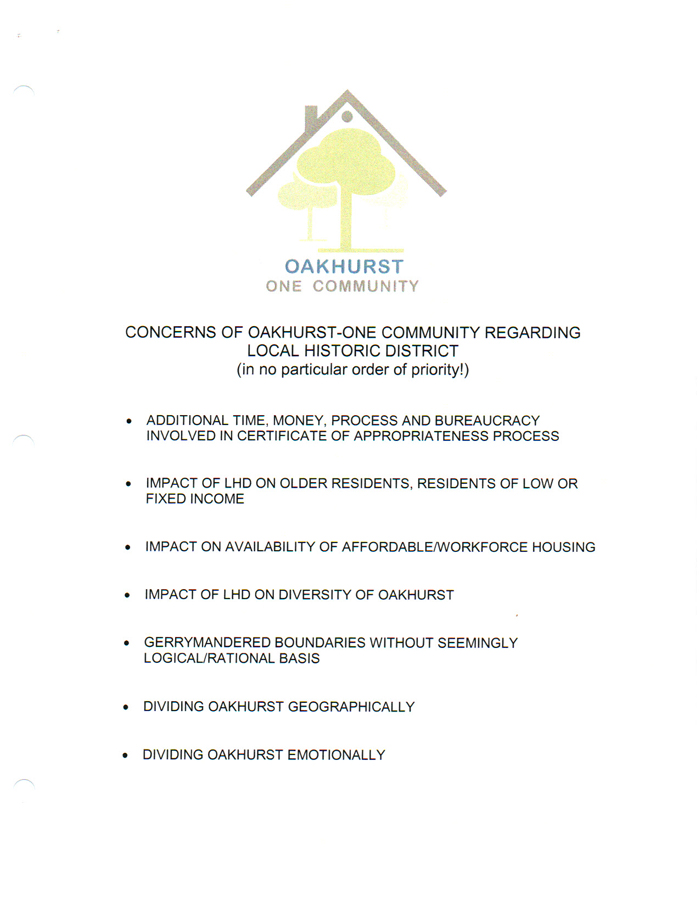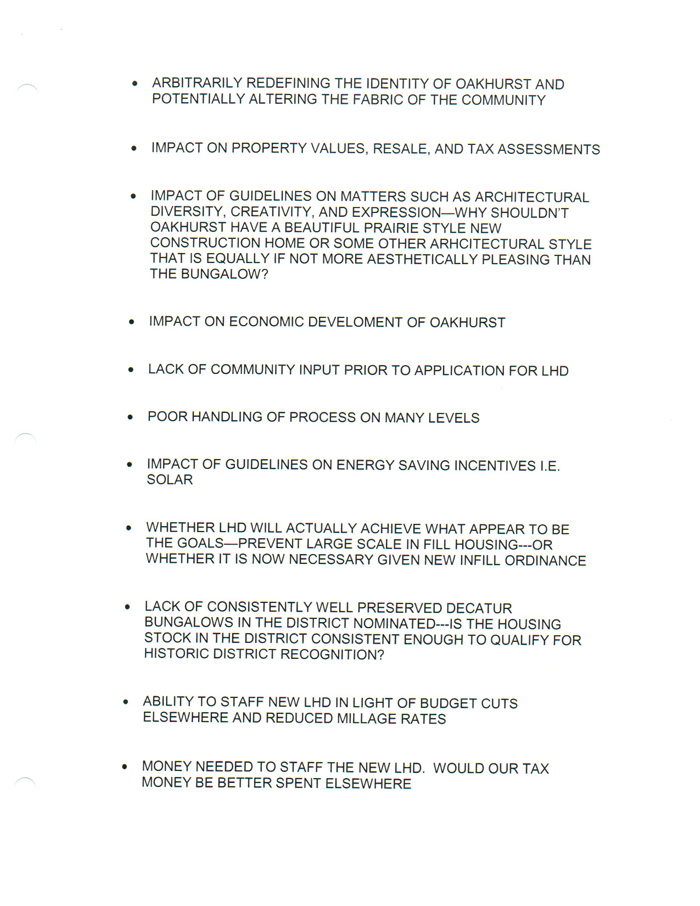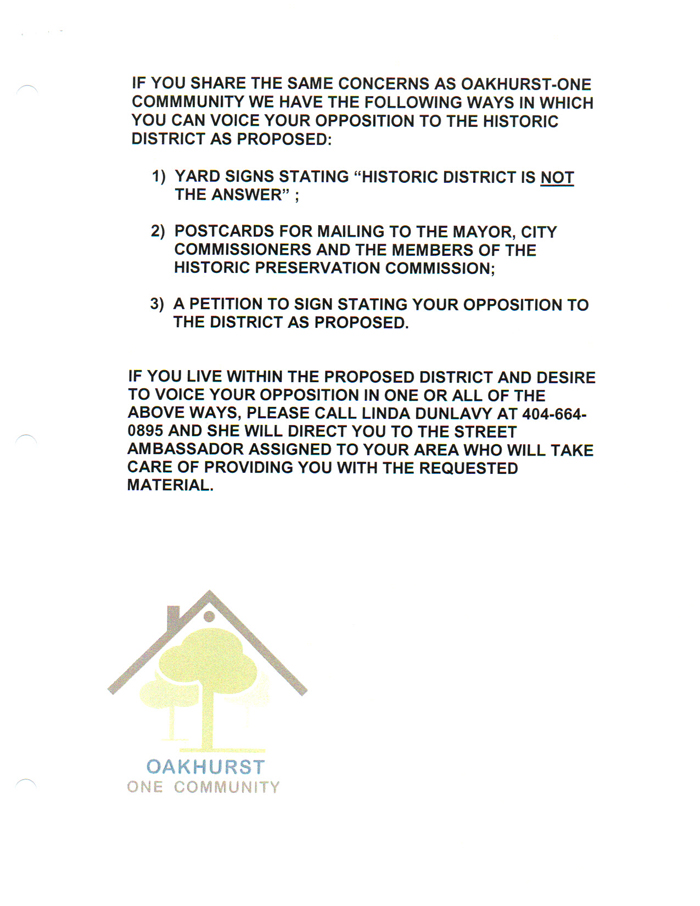 Note
* DS is a pseudonym used to protect the individual's identity.
Shortlink for this post: https://wp.me/p1bnGQ-1Jj