The tour continues.
Furnished and decorated by Washington's venerable Hecht Company, Silver Spring's 1939 World's Fair Home's public spaces reflected the traditional vocabulary that met visitors to the familiar Cape Cod home in the Northwood Park subdivision. The living room was the first room on the left of the entry hall.
Completed in the summer of 1939 and continuously occupied by only two families, much of Silver Spring's World's Fair home remains incredibly intact. Earlier I posted photos from the kitchen showing original cabinetry and the original Magic Chef stove. This post is a brief visit to the living room.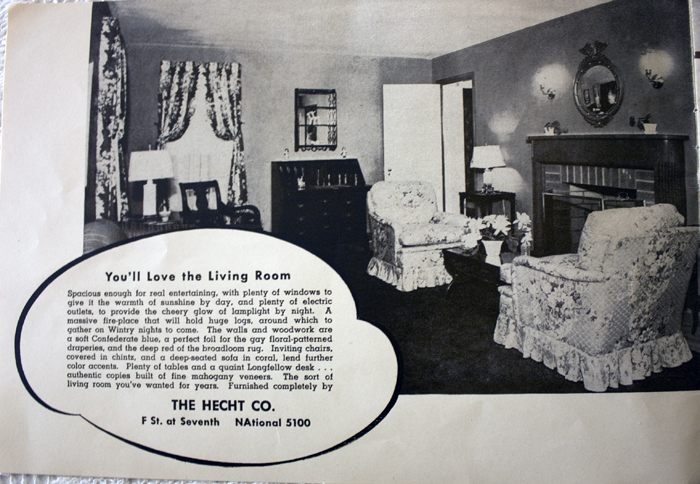 The home's builders and promoters, Garden Homes, Inc., worked closely with the  1939 New York World's Fair Corporation to replicate the Town of Tomorrow home as closely as possible. To achieve this, contractors (electricians, plumbers, etc.) traveled to the New York fair site to inspect the original model home. Details, down to every brick, insulation bat, and wood joint, were important.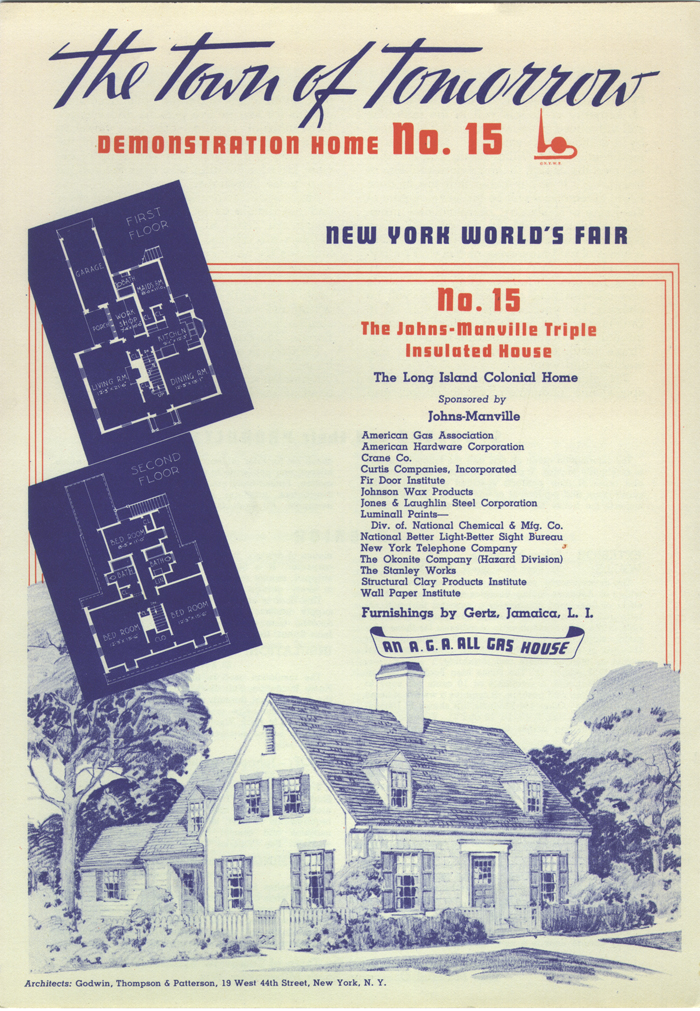 The New York home was furnished and decorated by local merchants, the Gertz department store of Jamaica, Long Island. For the Silver Spring home, the Hecht Company at first attempted to solicit assistance from Gertz and, as Garden Homes wrote to the Fair corporation in April 1939, got "nowhere fast." In May 1939, Hecht's sent a representative to the New York fair to finalize decoration plans for the Silver Spring home.
According to Washington Post coverage of the Silver Spring home's opening, the living room was completely painted "Confederate blue": "walls, mantle, and trim." A July 1939 Post article reported:
Directors of the home furnishing counseling service of the Hecht Co. have spent the last few weeks seeking authentic eighteenth century pieces to be shown here for the first time. Their efforts have not been in vain. The proposed living room pieces will include soft blue striped cotton damask sofa, opposite the fireplace, as the keynote of the room. This is flanked by a round lamp table and a distinctive occasional table. On either side of the hearth are gay yellow chintz club chairs with twin tables and lamps ….
By 2012, of course, all of the original furniture had been replaced. Ann Scandiffio's family photos show the living room and its furniture and fixtures, as they appeared in the 1940s. Notice the original wood panel door and glimpse of the front door in the photo of her brother Frank (below).
Visit the kitchen in this earlier post.
© 2012 D.S. Rotenstein
Shortlink for this post: https://wp.me/p1bnGQ-1T1