I think gentrification has made the neighborhood less of a neighborhood — Oakhurst resident, April 2012.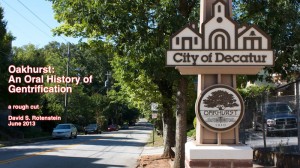 Last week the National Council on Public History released a post on its History@Work site previewing clips from the rough cut of my documentary video, Oakhurst: An Oral History of Gentrification. In its Facebook update announcing the post, the organization noted: "This is what gentrification looks like."
An early reader of the History@Work post wrote, "This is really amazing documentation – you're pulling it all together in such a clear and damning way." Plans are being finalized to present the completed documentary to groups in Atlanta in programs about inner-ring suburban gentrification and its impacts. Stay tuned for dates and venues.
For more on gentrification in Decatur:
© 2013 D.S. Rotenstein
Shortlink for this post: https://wp.me/p1bnGQ-2jg