NPR this morning reported that Ernest Joseph Thomas — Tabby Thomas — died yesterday. He was 84 years old. Tabby Thomas was a quintessential Louisiana blueser and one hell of an interesting guy.
There's no need to rehash the obits popping up across the Interwebs to celebrate Tabby's life. Instead, I'd like to revisit the night of June 25, 1991. My interview with Tabby was published in the Philadelphia Inquirer July 20, 1991. It was my first Inquirer byline.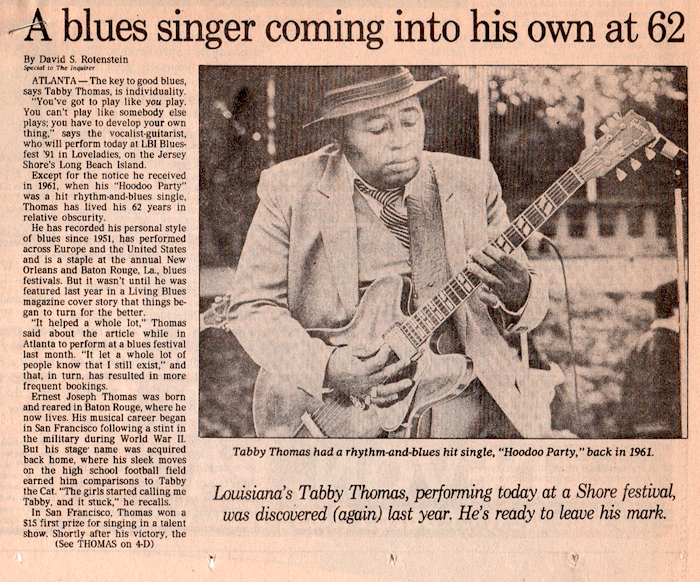 I met Tabby Thomas in room 150 at Atlanta's Cheshire Motor Inn. Back in the 90s, the motel was a popular place for local blues bars to overnight their talent. I arrived for the interview at 7:00 PM and Tabby quickly played for me six new songs.
The double room was stuffy and pianist Henry Gray was snoring lightly in the next bed as Tabby and I spoke for the next two hours. The television was tuned to American Movie Classics and our conversation was all about the blues.
"My original name is Ernest Joseph Thomas," he said. "They used to call me T-Boo when I was a little boy." As I wrote in the Inquirer article, he got the name Tabby playing football:
And the way I got hold of Tabby was I was playing football for McKinley High School. I used to play quarterback. I used to handle the ball so slick from the "T" formation and second wing and double wing and I picked up the ball so good a lot of times people didn't know where the ball was. And so the girls started calling me Tabby the Cat — that was slick, you know, with the ball. And that just stuck with me in high school, that's how I picked that up.
Tabby's wife Jocelyn died in 2005. They were married in 1953. "Ain't nothing in the world I won't do for her. I love her, man," he told me in 1991. "She had seven kids with me. Five girls and two boys."
He opened his popular bar, Tabby's Blues Box, in Baton Rouge in 1980 and closed it in 2004 after suffering a stroke. It was a popular destination for musicians and blues fans traveling through Louisiana. In 1992, before a gig in Philadelphia's Chestnut Cabaret, Tabby was sharing moonshine with John Campbell and Buddy Guy in the dressing room. he told me that he had framed the interview and hung it prominently behind the bar. I smiled.
He loved his bar like he loved his music. "My clud is designed with the local guys in mind to give them  forum where they can come and play. That's all it was. It wasn't a money-making thing," he told me in 1991. He then explained,
If you want to find out how good some of these guys are that's supposed to be playing, just bring him to the Blues Box and let him get up there and play on the shit we play on and sing on the shit we sing on and you see how good he his. Let him get up there with three pieces. You want to see how good somebody is, let him get up there with one or two pieces. I can get up and play by myself. You let them guys get up there and play by themself or get in there and play with two or three pieces. When you see them guys, they've rehearsed six months to play one damned number. And I can get up there and play in the band and I don't even know the guys.

It's a mark of an artist. A mark of a real artist to get up and make something out of nothing. That's what they call art, when you take nothing and make something. That's artistic. Anybody can take something and make something with it, but you take nothing and make something.
Tabby Thomas, artist and entrepreneur. January 5, 1929 – January 1, 2014.
Shortlink for this post: https://wp.me/p1bnGQ-2pJ