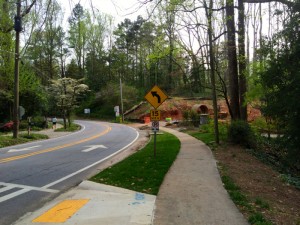 Last week I had a conversation on gentrification with a couple of historians who teach in Atlanta area universities. At one point the conversation turned to a residential development project in Atlanta's historic Druid Hills area.
For the past several years, an Atlanta attorney and property owner has challenged the DeKalb Historic Preservation Commission's jurisdiction over the subdivision of undeveloped properties in historic districts. The property owner was unable to find relief in the state's courts so he turned to the Georgia legislature in several consecutive years in an attempt to amend state's historic preservation and zoning laws.
It had been a while since I drove by the development site since a temporary restraining order preventing land clearing had been lifted in 2013. Like neighborhoods where gentrified space is being produced, the Clifton Ridge development site has been targeted by citizens opposed to the new land use – e.g., subdivided lot and higher residential density. Resistance has included lawn signs throughout Druid Hills and vandalism to the development's signs along Clifton Road.
The proposed Clifton Ridge development is not gentrification nor is it part of a larger gentrification process underway in Druid Hills. There is no disinivestment; the neighborhoods in Druid Hills solidly are among the upper-middle class and above economic strata; and, people are not being displaced from their homes. Yet, as the yard signs, litigation, and community discourse demonstrate, there are significant concerns about how the new homes and reconfigured lots will affect the community's character.
Here are some scenes of resistance from Druid Hills.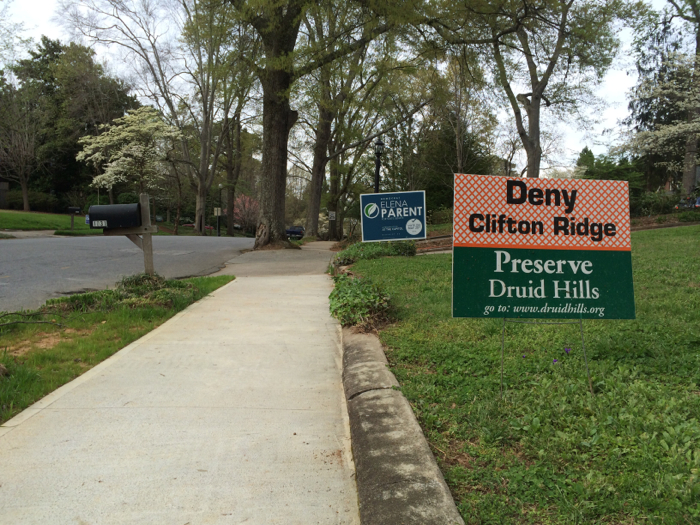 © 2014 D.S. Rotenstein
Shortlink for this post: https://wp.me/p1bnGQ-2vf