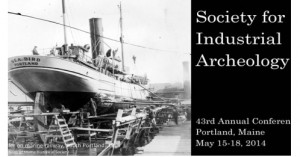 Fridays are tour days for folks who attend the Society for Industrial Archeology's annual conferences. This year's conference was in Portland, Me., and I signed up for the urban tour: Portland. Stops included a high-tech chicken processing plant and a manufacturer that produces specialized generated rotor (gerotor) parts for pumps. The Portland Narrow Gauge Railroad Museum located in the historic Portland Company complex in the city's Eastern Waterfront district was another stop. The most memorable site for me wasn't on the itinerary, though.
After a ride along the 19th-century rail corridor, I slipped away from the other SIAers who spent an hour in the railroad museum. I set out to get some photos of an urban landscape in transition via gentrification and redevelopment. On my way back to the museum, I detoured to a side area in the Portland Company complex where I saw a sign for The Portland Forge. A couple of hundred feet down a narrow alley formed by the brick Portland Company buildings on one side and Portland's 19th-century seawall on the other I met blacksmith Sam Smith, The Portland Forge's proprietor and a business owner facing possible displacement by encroaching gentrification.
Geographer Loretta Lees discussed Portland's urban redevelopment efforts as a case study in small city gentrification in a 2003 article [PDF]. By attending the SIA meeting in Portland, I had a chance to see a small city — Portland has about 66,000 residents — with gentrification underway in several areas. It was an interesting contrast to Decatur, Ga., another small city that is experiencing intense gentrification in one neighborhood in addition to citywide residential redevelopment.
In its effort to jump start revitalization in its deteriorated downtown, Portland focused on tourism and the arts. Lees described the process in her 2003 article, "The Ambivalence of Diversity and the Politics of Urban Renaissance: the  case of youth in downtown Portland, Maine, USA":
In emphasizing the importance of tourism-related growth and the contribution of a historic built environment, specialty shopping, dining and entertainment to that end, the City of Portland has followed a common redevelopment path. Municipal officials seek to counter suburban and ex-urban development and the ghosting of the inner city by creating a vibrant, livable inner city.
Smith's shop is located several blocks east of the gentrified arts district Lees documented. Lees focused on the Old Port district which is centered around the city's art museum and the historic Congress Street corridor. According to Lees, gentrification in that area began in the 1990s and it included the rehabilitation of residential and commercial areas as well as a reconfiguration of  public spaces in downtown's core. My accidental encounter with Smith was an opportunity speak with a traditional craftsperson caught in the early stages of industrial displacement on the fringes of the area Lees examined a decade ago.
Smith, 30, is a New Jersey native who learned the craft as a teenage apprentice at Allaire Village. He moved to Maine and opened his own business at 19. Smith enrolled as a history major at the University of Maine's Machias campus before withdrawing when the school suspended its history major in 2010. He opened his Portland shop two years ago in a blacksmith shop that dates to the 1840s. Smith is one of several renters in the complex that includes yacht sales, designers, non-profits (including the Maine Island Trail Association), and other businesses.
I spoke with Smith for a while in his shop before I returned to grab a few SIAers to return for another chat with the blacksmith. The visit is recounted in the next issue of the Society for Industrial Archeology News.
The Portland Forge is Smith's second Maine location. He opened his first Maine shop in 2003 along the Penobscot River about four hours north of Portland. As his business expanded, Smith found himself spending more time in Portland. "I started coming to Portland with my portable shop until I was able to generate enough revenue and find the right network of people to find the shop that I have now," Smith said in a phone interview after the SIA conference.
Smith's shop is built hard against the 30-foot high stone former seawall that once formed the Portland's water's edge before filling in the 1850s created Commercial Street and its rail corridor. Local legends suggest that the wall's coal chutes were used by the Underground Railroad. It's part of the sprawling Portland Company complex located in flats created by the 1850s filling. The company was founded in the 1840s to manufacture railroad equipment for the Grand Trunk Railroad, the line connecting Montreal with Canada's winter port, Portland.
The Eastern Waterfront Zone is an area targeted for mixed-use redevelopment:
… to acquire a distinctly urban form through development that emphasizes a quality pedestrian experience, promotes public transit, and demonstrates exemplary urban design. The zone promotes a range of uses to achieve twenty-four urban vitality and shared use of parking infrastructure as recommended in the eastern waterfront master plan for redevelopment. (City of Portland, Code of Ordinances. Land Use, 14-268)
The zone is more fully described in the 2002 (updated in 2006) Eastern Waterfront Master Plan,
Portland's Eastern Waterfront provides a unique location to combine the opportunities provided by deepwater berthing resources with the economic development potential of an historic and vital downtown commercial center. The challenge is to develop the marine passenger industry and to re-develop the underutilized uplands without negatively impacting the existing and future residential neighbors. The Master Plan envisions new development in the area to be an amenity and an asset to neighborhood residents, the greater City, and the visiting public. (Plan, Preamble)
The Portland Company complex is one of six redevelopment areas identified in the plan. It is described as "highly developed, but in need of significant structural and cosmetic
repair." And, the plan notes that the complex has been determined eligible for listing in the National Register of Historic Places. It is not, however, locally designated and therefore not subject to review by Portland's Historic Preservation Board. The property's historical significance is a key element in the 2006 plan. Two of the five development considerations outlined in the plan are associated with its history and it recommends "adaptive reuse and sensitive rehabilitation of historic structures."
Smith's shop, however, is on the complex's edge and it isn't in one of the core brick buildings. Its location adjacent to Fore Street creates a closer connection to downtown than the complex's core buildings. That, and its lack of local protection under Portland's historic preservation ordinance, make it a prime candidate for redevelopment. Last year a developer purchased the 10-acre property and its collection of nineteenth and twentieth century industrial buildings. Condominiums are one redevelopment option under consideration.
Though artisanal enterprises are included in the new plan, a blacksmith shop may not fit with developers' and planners' vision for the area. Blacksmith shops can be noisy, smoky, and they are considered nuisances and fire hazards in many cities. Because of the property's sensitive setting along Portland's historic working waterfront, developers will have to navigate a land use regulatory mazeway that includes rezoning and environmental issues. Incorporating the new uses — residential and commercial — into the site and the surrounding area undergoing redevelopment likely will involve displacement, i.e., involuntary dislocation.
Winifred Curran, writing on industrial displacement in Brooklyn, New York, describes the process as "the result of speculative real estate pressure that is tied directly to gentrification." She added,
In other words, industrial displacement is not simply an unfortunate consequence of the revitalisation of the inner city. Displacement is an active process undertaken by real estate developers, city planners, policy-makers, landlords and even individual gentrifiers.
The Portland Press Herald reported in August 2013 that Smith's business may be on borrowed time. When I was in his shop in May Smith mentioned the possibility of displacement and I asked him about it when we spoke the following week. "Ultimately the shop is in limbo and I've had some talks with the owners saying that they want to keep it as an artistic studio but they never came out and said yes, we're going to keep it as a traditional blacksmith shop," Smith explained. "Because that's my greatest concern since I make my livelihood because I'm a traditional blacksmith."
The uncertainty has kept Smith from investing in his space. His current layout includes several antique English anvils and a side-tuyere forge that gets air from mechanical blowers. Smith wants to install a pair of large traditional leather bellows. It's a significant investment and the looming redevelopment and uncertainty are influencing his decision making. "I told them I would need at least a fifteen-year lease before I would be willing to sacrifice those kinds of funds for a building I don't even own," Smith said.
Portland's master plan for its commercial waterfront is heavy on mixed use redevelopment, transit, and pedestrian connectivity. Permitted uses in the zone includes craft shops with onsite production. Smith fears that a blacksmith shop located beneath high-end condominiums might be considered a nuisance. "How many people want a blacksmith shop in their basement? Maybe me or you," Smith said with a chuckle.
Smith's situation is similar to other small industrial operations in urban areas. In Manhattan and Brooklyn, for example, Sharon Zukin and Curran have eloquently described industrial displacement as demand for loft space increased in the last third of the 20th century. Unlike the manufacturers described in research on industrial displacement in New York City, Smith's operation is a small craft enterprise where he is the sole permanent employee who works alongside apprentices rather than unskilled immigrant labor. Smith's craft business serves a small niche in urban Portland yet it is an important tie to the city's disappearing industrial past.
If Smith's shop is displaced by redevelopment and he is unable to reopen elsewhere in the city, the impact to Portland's economy likely would be negligible. The impacts to the city's intangible character, however, may be significant. Smith's shop is Maine's last operating urban blacksmith shop. Beneath the surface, however, Smith's operation is much more than a craft production shop. It is a thickly layered anachronism that is part living history laboratory and part urban sustainability experiment.  "The reason why I'm still active with history and want to know more about it is because I interacted with it through a living history interpretation at an early age," Smith explained. "I still reinforce the tenets of living history and I apply it to my everyday profession."
Visitors to The Portland Forge won't find a blowtorch or any modern metal working technology nor will they find any contemporary business technology. Smith jokes that he will have one of the few functioning businesses if the electric power grid ever fails. It is part of a bigger vision that folds iron and people into new states. The iron becomes tools and decorative arts; people become craftspersons and, perhaps, entrepreneurs like Smith:
By only using nineteenth century techniques in my iron work and those tools associated with those eras. And it's also the pinnacle of handwork technology, the industrial revolution, for the most part – at least in the nineteenth century, the first one – it enhanced the human component but it didn't replace the human component. So the tools were built for people to amplify their ability to use their hands. And that changed as the century dwindled and the twentieth century dawned.
Smith uses an apprenticeship model rather than a employment one for labor. It allows him to continue the training tradition within which he learned the trade and it creates a pool of skilled craft labor. He also opens his shop to school groups as a learning environment. Displacement could end those educational opportunities and the incalculable contributions they make to Portland's urban economy.
In some respects, Smith has been part of the local economy produced the urban redevelopment and gentrification sweeping through Portland. Much of his market includes new households in the city with the wealth to buy custom-made iron tools and architectural ironwork. "People come in with an idea and a dream or plans for an exact thing. Sometimes engineers or architects will come with an already drawn up plan saying they need this," Smith said. It would be ironic if his business were overtaken by the very market that has sustained him since he opened the Portland Forge.
Beyond the page
Watch a brief documentary about The Portland Forge released in May 2014 and produced by Bowman Productions:
© 2014 D.S. Rotenstein
Shortlink for this post: https://wp.me/p1bnGQ-2y7