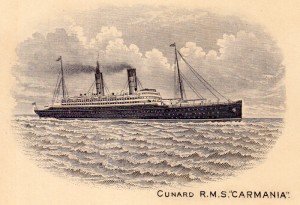 In the mid-1970s I found an old diary in a house that was about to be demolished in Daytona Beach, Fla. The diary was written by a 24-year-old woman and it recounted her December 1905 trip on the maiden voyage of the ocean liner Carmania from England to New York.
In 2010, I posted a transcript from the diary and scans of various photos and other items. Last year, the woman's great-granddaughter found the post and left a comment on the post. We began corresponding and I connected with other family members. Soon a plan emerged for us to meet and for me to return the diary to the family.
On September 29, 2015, I met Vera G. Lome's great-granddaughter and returned the 1905 diary to its family. We met in a study room inside the new library in Silver Spring, Maryland.
The diary had stayed with Vera through young adulthood and into her marriage with engineer Fay Tomlinson. She carried it with her as the couple moved throughout the eastern United States to New Jersey, Indiana, and finally, Florida.
For a while, the Tomlinsons lived in a house on Peninsula Drive, just a few short blocks from the Atlantic Ocean beach for which Daytona is famous. Somehow Vera left the diary in the house when they moved and it became commingled with the home's longtime owner's belongings in the basement. It was there that I found it in a moldy pile left as trash — I was barely a teenager already with an interest in old things — just before the home was razed.
The diary traveled with me from Florida to college in Atlanta and graduate school in Philadelphia. I had it when I moved to Pittsburgh and got married and it moved with us to South Carolina, West Virginia, Maryland, Georgia, and back to Maryland again. It was one of the sparks that inspired a young history nerd to follow a life-long passion for learning about the past.
When I returned the diary to Vera's kin, I gave up a little bit of my past while helping a family reconnect with some of its own. That's a history win in my book.
Over the next few months I'll be filling in the gaps about Vera's life and how the diary ended up in a modest home in a seaside tourist town.

© 2015 D.S. Rotenstein
Shortlink for this post: https://wp.me/p1bnGQ-2N3