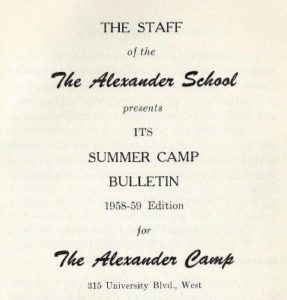 Suburbia has many critics and defenders. The former excoriate the space as wasteful sprawl and the latter defend its place in architectural and social history. Somewhere between the two extremes lie stories originating in suburbia's mythically sterile origins and which celebrate the adaptations residents and entrepreneurs made to newly created residential spaces.
Silver Spring's Alexander School and camp — the place where Bird Legs dwelled in underground caves — is one of those stories.
When developers finished platting residential subdivisions and building physical infrastructure and houses, they turned the spaces over to new residents: homeowners. These residents needed stores, schools, and other services to complete their new communities. Sometimes the builders provided these; other times it was up to the public sector and entrepreneurs.
In Silver Spring's Four Corners community at the intersection of Colesville Road and University Blvd., suburbanization began in the 1920s and accelerated through the 1930s and into the war years. By 1942 enough families had bought homes that Montgomery County met the demand for new schools by building Four Corners Elementary School. Plans to build 238 temporary houses for wartime workers exacerbated the need for more educational infrastructure.
For younger children and to provide daycare during the summer, Hilda Hatton bought a six-acre former farm, one of the area's last remaining large agricultural parcels, and founded the Benjamin Acres School. Named for the colonial land patent out of which the property was carved, the Benjamin Acres School opened in the summer of 1943 as a day camp and nursery school for children ages four to 14.
Hatton operated the school until 1947 when she relocated to Annapolis and reopened it as a boarding school. She sold the property, which by that time included a two-story residence that had been converted into a school building and a swimming pool, to Ernest L. Kendall. Kendall (1906-1990) was an Oklahoma native and educational entrepreneur who had just resigned from his position as principal of the Capitol Page School in Washington.
Kendall arrived in Washington in early 1931. He was a graduate of Southwestern Oklahoma State University. After school he began working in public education and by 1930 he was the superintendent of schools in Granite, a small Oklahoma town south of his birthplace, Weatherford. Kendall worked briefly in sales during his bid to acquire District of Columbia teaching credentials while also studying part-time at The George Washington University.
Desperate for full-time employment, Kendall approached Oklahoma Representative James McClintic. The legislator suggested Kendall join the Capitol police force or that he start a school for pages. Kendall chose the latter. The District of Columbia School Board accredited Kendall and the school, a dank space in the Capitol basement, where Kendall developed a rigorous curriculum and extracurricular activities, including sports teams.
Kendall's granddaughter, Kaye Giuliani, remembered that he had a very strict and religious upbringing. "He told us one time that if he had done anything wrong, he was actually shut in a closet and asked to pray," she explained in an interview. "He had extremely high values and standards, of himself, of his staff. Expected a lot from his students."
In 1946, Congress assumed control over page education and transferred administration of the Page School to the District of Columbia. Kendall received a contract to continue as the school's principal through June 1947. At the end of that term, Kendall and all of the other staff were dismissed. Four months later, he bought Hatton's Benjamin Acres School, renamed it the "Alexander School" — to get a top listing in telephone directories — and set about navigating Montgomery County's tortuous regulatory mazes to transfer the existing school license and to embark on an ambitious construction program to enlarge the school's facilities.
"He had a vision of what he wanted to have as a school. So he wanted [it] to be a wonderland type of place," recalled Kendall's son Fred, who began his career as a camp counselor and who later became the Alexander School's principal. "It was exciting because there was a swimming pool there. Beautiful, beautiful grounds with old trees and things." Kendall built age-specific playgrounds and added an auditorium wing to the existing building. "He added a merry-go-round. He added a boat ride, like you see at carnivals and stuff, smaller version. And a merry-go-round and a Ferris wheel, small [in] nature," explained Fred Kendall.
The Kendalls believed that their students needed a well-rounded education that included rigorous coursework, lots of healthy play, and exposure to the performing arts. The auditorium Ernest Kendall built was outfitted with professional lighting and sound systems. During the school year children performed in elaborate productions and in summers it was filled with cots for nap time.
Alexander School students and campers and many Four Corners residents recall an unparalleled recreational facility. Students got a quality education and exposure to the arts. Parents found a safe place for their children during the workday. And, Four Corners children used the school grounds after hours as an unofficial park.
"The school was not so much elitist as it was working parents," explained Fred Kendall. "His idea was that he had customers or clients who had to go to work. And if they had to go to work, they had to have childcare." A 10-bus fleet outfitted with radios provided transportation to the school. Kendall remembers that the school opened very day, even in bad winter weather: "If you had to go to work, we were going to send the bus."
The Kendalls offered early drop-off and late pick-up for working parents. Students could get breakfast at the school and enjoy supervised play after classes. "We did something called 'early comers' and 'late stayers'," said Kaye Giuliani. "This is when parents were working and had to drop the kids off before class so they'd have playground time or television time." Former student Kathleen Galinat attended the school and camp. She and her brother were among the early comers whose parents dropped them off at the school on the way to work each morning. She fondly recalls the cinnamon toast she and her brother got each morning.
Each school year the school staged elaborate performances in the auditorium Ernest Kendall built. The auditorium had a stage, professional lighting, and a soundboard. The performances were a Kendall family affair: Ernest Kendall's second wife and daughter-in-law sewed the costumes and son Fred ran the lights and sound during the shows. "I remember my mom helping with costumes but my grandmother was – she was my step-grandmother. She was a showgirl back in the day," said Giuliani.
In the 1980s, after expanding his enterprise to multiple satellite locations in lower Montgomery County, including sites in White Oak, Kensington, and the Tumble Inn on Georgia Avenue at Dennis, Ernest Kendall grew restless. Family members suggest he grew tired of dealing with Montgomery County's bureaucracy.
One day Ernest Kendall announced he was selling the properties and moving back to Oklahoma to open a motel. The move created a rift in the family and the move ultimately hurt Kendall financially. He left Oklahoma for southern California where he died in 1990 from cancer-related complications.
Ernest Kendall sold the school in 1983 to the Yeshiva High School of Greater Washington. Twelve years later it was again sold, this time to the Maryland-National Capital Park and Planning Commission as expansion space for the neighboring Four Corners Local Park. The expansion plans, which included constructing a large soccer field, stalled for more than a decade as neighborhood activists opposed the agency's plans. During that time the vacant lot became a fallow field that neighborhood residents used as a playground and popular dog walking location.
For a brief period, the former school site informally was dubbed "Rachel Carson Meadow" and the Northwood-Four Corners Civic Association [PDF] sponsored an annual "Rachel Carson Meadow Festival" there.
Construction on the new park began in 2013 and was completed in 2015. The new space represents not only an improved Montgomery County amenity — increased parklands — but it also marks a new era of suburban recreation in the space first begun nearly a century ago.
Beyond the Page
Former Alexander School and Camp community members created a Facebook page where they post photos, memories, and maintain friendships.
This post is an expanded version of an article published in the June 2016 Northwood-Four Corners newsletter, the Northwood News.
© 2016 D.S. Rotenstein
Shortlink for this post: https://wp.me/p1bnGQ-2Uo