Residents who will be impacted by a new master plan proposed for a part of Montgomery County, Maryland, asked me to testify at a hearing before the Montgomery County Council. This post contains the testimony I submitted for the official record. A substantially abbreviated version was presented in the hearing session held September 29, 2016.
Montgomery County Council
Public Hearing on the Greater Lyttonsville Sector Plan
Testimony of Dr. David Rotenstein
September 29, 2016
Good Evening. My name is David Rotenstein. I am a professional historian, a Silver Spring resident, and a former chairman of the Montgomery County Historic Preservation Commission. I am here to speak against the proposed Greater Lyttonsville Area Sector Plan because of fatal deficiencies in a key area of the plan before you: its treatment of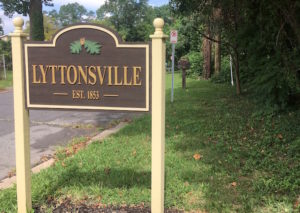 history and historic resources.
Last Sunday the Washington Post published an article about the Talbot Avenue Bridge. Relying heavily on my work, the reporter interviewed several Lyttonsville residents, two of whom spoke here Tuesday evening, about the bridge's history and its importance to the community. They told the reporter, and me two months earlier, that the bridge was an important artifact that conveys significant information about Lyttonsville's past as an African American community segregated from Silver Spring, a community that excluded African Americans from buying property and living there for most of the twentieth century. Lyttonsville was Silver Spring's other side of the tracks. The Talbot Avenue Bridge, as longtime Lyttonsville residents told me (and the Post), does much more than carry traffic over a railroad. It connects communities and it is a palpable reminder of the Jim Crow segregation that defined Montgomery County social and economic life for a significant period of time. Continue reading →