Montgomery County historic preservation planners have begun exploring, analyzing and recording local mid-century modern buildings and communities, part of an effort we call Montgomery Modern. — Montgomery County Planning Department website
A few years ago the Montgomery County Planning Department's historic preservation staff began an initiative it calls "Montgomery Modern." The initiative has included a massive public relations campaign to raise public awareness for, and appreciation of, Montgomery County's mid-twentieth century architecture. Montgomery Modern has included bus tours and bike tours of residential subdivisions and architecturally significant office buildings, churches, and public buildings. And it's yielded a book written by one of the agency's historic preservation planners.
In its zeal to highlight other's peoples' buildings, the agency appears to have overlooked its own headquarters: the Maryland-National Capital Planning Commission's Montgomery Regional Office (MRO) at 8787 Georgia Avenue in Silver Spring.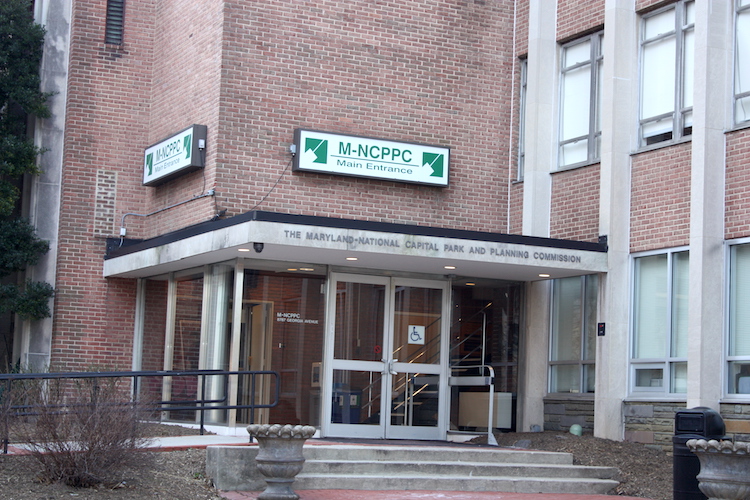 The MRO is ground zero for suburban development in Montgomery County and, indeed in some respects, much of the Washington metro region, historic? A cursory look at Montgomery County's Criteria for Designation in the Master Plan for Historic Preservation memorialized in the county's historic preservation law (Chapter 24A of the Montgomery County Code) suggests that it is. At the very least, what appears to be a distinctive mid-century modern public building certainly appears to have the chops for inclusion in the Montgomery Modern initiative.
The MRO building was completed in 1957. It was designed by Milton Fischer (1910-1999), an architect in the Washington firm Corning and Moore. Fischer was born in New York City in 1910 and he graduated from the University of Michigan in 1933 with a degree in architecture and city planning. He worked in the public sector before moving to private practice after World War II.
In its coverage of the new MRO, the Washington Evening Star described Fischer as "an architect who is also a planner." Though his brief American Institute of Architects biography doesn't explicitly mention Fischer's urban planning training, it does note that Fischer lectured in city planning at The George Washington University during the 1940s. The Washington Post reported in Fischer's obituary that he had worked for the U.S. Housing Authority planning wartime housing for District African American residents.
Fischer's Post obituary also described him as "an architect who helped shape the Washington suburbs before and after World War II." His most notable projects include designing the Watergate and Foxhall. Fischer's 1960s entries in AIA directories list the MRO building first among his principal works.
So, was the MRO designed by a master, one of the criteria for designation as a historic property under Montgomery County Law (§24A-b(3))? Perhaps.
The MRO certainly appears to meet several of Montgomery County's Criteria for Designation as a regulated historic property. Let's review some of those criteria besides the one that deals with whether a building was designed by a master:
Does the building have "character, interest or value as part of the development, heritage or cultural characteristics of the county, state or nation? This criterion is a no-brainer. As the building where every major planning decision for Montgomery County has been made since 1957, the MRO might be said to have sublime significance in this category. According to press coverage of the MRO's 1957 opening, the building was a "pioneer in type." The Washington Evening Star wrote, "The headquarters building is believed to be the first contemporary office building ever designed in this country for the sole use of a planning commission and its technical staff."
Is it a site of a significant event? A cursory review of Montgomery County histories, newspapers, and studies of the agency itself, including former Planning Board Chairman Royce Hanson's new book, Suburb: Planning Politics and the Public Interest, many historically significant events occurred there.
Does the MRO exemplify the cultural, economic, social, political, or historic heritage of the county and its communities? Again, its very mission, the M-NCPPC has defined what is historic in Montgomery County via a vast regulatory program that has shaped every aspect of social and political life in Montgomery County ever since its founding in 1927.
Does the MRO embody distinctive characteristics of a type, period, or method of construction? According to 1957 Evening Star coverage, the building was hoped to be a prototype for sister agencies throughout the nation by creating spaces for agency work and public engagement. Flexibility was incorporated into its design. Ans then there are the distinctive architectural features: a steel frame structure clad by brick, limestone, and "Pennsylvania rubble stone."
Those are just a few of the county's legal criteria for designating buildings historic. So is the M-NCPPC's MRO historic? Montgomery County residents may never know. The building is slated for demolition and the site will be redeveloped once the M-NCPPC moves to a new headquarters building in Wheaton.
I asked Montgomery County County Historic Preservation Office supervisor Scott Whipple if the MRO had been evaluated under the County's historic preservation law. He replied that it had not.
Why?
"Because no one has nominated it," Whipple explained via email.
And then, in what can only be described as a page right out of presidential press Sean Spicer's script of mind-bending government explanations, Whipple added, "Our immediate work program has been on the process of developing MCM [mid-century modern] contexts and building awareness."
Huh?
What Whipple seems to be saying is that his agency is trying to raise Montgomery County's awareness of mid-century modern buildings by using every building in the county except his agency's own? The MRO is a building that appears to meet multiple historical and architectural criteria for designation in the Montgomery County Master Plan for Historic Preservation and one that requires what may be the least amount of effort to research and include in historic preservation public relations campaigns like Montgomery Modern.
On its face, historic preservation supervisor Whipple's assertion that his agency has been too busy to evaluate its own mid-century modern building's historical significance because the agency has been too busy researching mid-century modern buildings doesn't work. Modern buildings are tough sells to the public when it comes to historic preservation. Cases like the Montgomery County Planning Department's avoidance of its own historic building's historical significance (outside observers are left to speculate about the reasons) only make public awareness programs like Montgomery Modern all the more difficult and further erode the public's trust and acceptance of historic preservation and the regulation of private property under preservation laws.
© 2017 D.S. Rotenstein
Shortlink for this post: https://wp.me/p1bnGQ-31o