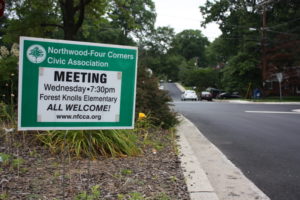 Some of you may know that I'm a historian. I don't study and write about wars or presidents or the economy. I started out as an archaeologist and slowly moved my interests and work to people and events closer in space and time to the present. Now, much of my work involves oral history and documenting events in real time long before they become memories. Most of my work is done in communities undergoing change through gentrification where race, class, and past events collide in the present.
Back in 2011 my wife and I moved to an Atlanta suburb that in many respects is a lot like Silver Spring. These similarities were both good and bad. While there my attention quickly became focused on the bad things destroying the community. Some of them may be familiar to some of you, especially the ones involving lots of development changing established neighborhoods. Others included elected and appointed officials who appeared to make decisions that favored developers and real estate interests over the public good.
When we returned in 2014 to Silver Spring and Northwood-Four Corners, the community was still the same (mostly) one that we had left three years before but the way I viewed it was significantly altered. Don't get me wrong, we live in a terrific place filled with wonderful people, homes, and public spaces. But we also have history rooted in white supremacy and exclusion that not only created the community we love but which also continues to influence our daily lives in subtle and, for some of our neighbors, not so subtle ways.
If you live in one of our neighborhood's earliest subdivisions created between 1936 and 1948, you'll see language in the old deeds attached to your property prohibiting people of color from living where you now live. After the U.S. Supreme Court rendered that language — known as racial restrictive covenants — unenforceable in 1948, racially biased developers and residents found other ways to keep people of color from living where we now live and in more than 10 square miles around us, from the District of Columbia line all the way out to White Oak. It wasn't until 1968 when Montgomery County's open housing law became effective that many of the people we now call neighbors could live here.
Though the days of Jim Crow segregation and overtly racist real estate practices are over, all it takes is a few minutes with the Washington Post or some other news source to know that our nation still struggles with race and bias. Names like Trayvon Martin, Michael Brown, and Tamir Rice are etched in our minds, along with the names of places like Ferguson, Missouri. It seems like there's a new study every month documenting educational inequalities, workplace discrimination, and civil rights abuses by law enforcement and the judicial system. Last year's presidential election and the first few months of the Trump administration have brought these divisions to the surface for many of us.
But these are not problems attached to other places and other people. They are issues in our neighborhood, Silver Spring, and Montgomery County. Montgomery County, some researchers have shown, has two schools systems: one for wealthy white children and another for less wealthy children of color. Police racial profiling remains a constant threat to families of color here. And, public land use policies continue to privilege white residents and business owners over others. These are not popular things to say and write, especially in a neighborhood like ours where it's easy to walk from one end of a block to the other and chat with neighbors of many backgrounds and experiences.
I am one of a growing number of activist historians (and sociologists, anthropologists, geographers, etc.) turning my academic skills and personal passions into efforts to change the status quo. Here in Silver Spring that means trying to throw away the eraser that has rendered our community's history as a sundown suburb (a place where African Americans could not live unless they were domestic servants) invisible. Along the way, the people of color who lived here during Jim Crow in communities like Lyttonsville or Chestnut Ridge also became invisible. You won't read about them or segregation in local history books. You can't read about them in official studies from the Montgomery County Planning Department. And, as they age and pass away or move from Silver Spring, it becomes increasingly more difficult to learn their stories.
If you've read Ralph Ellison's landmark 1952 novel, The Invisible Man, or if you're a person of color who grew up in Montgomery County or Washington before 1970, you'll know what I'm talking about.
Historians call the process of becoming invisible "erasure." Some erasure is intentional, whether it takes the shape of community rebranding efforts like the new "Downtown Silver Spring" that emerged at the turn of this century. Other erasures result from deeply held oftentimes unconscious biases people have because they lack experience living, working, worshipping, and playing with people who are different from them. In 21st century America, everyone, even myself, acts because we are hardwired psychologically to think in terms of "us" and "other."
The ways we manage bias are what distinguishes us. We can never fully shed ourselves of bias but we can do things that minimize it. It can be taking care to describe suspicious activities rather than suspicious-looking people by using their race as the only or first identifying characteristic when posting to the neighborhood listserv or when calling police. This is something our new listserv moderator tackled earlier this year.
Other ways include getting to know your neighbors. NFCCA doesn't have many formal opportunities for this but our annual celebration of National Night Out in August (see insert) is one way. Another is to come to the June NFCCA meeting where Silver Spring resident and author Howard Ross will talk about everyday bias and the ways we can overcome it.
As for myself, I will be a one-term NFCCA president. I can't effectively lead and advocate for our neighborhood while also being an activist to reverse decades of erasure and more than a century of white supremacy and its less obvious kin. I think our neighborhood is important and I believe that my work outside our neighborhood is important. Unfortunately, I can't do both. Writing and speaking about structural racism in our county means writing and speaking about current elected and appointed officials and their organizations. That work diminishes my effectiveness as an advocate for our neighborhood and our neighborhood deserves and needs an effective leader and voice.
Though NFCCA elections aren't until October, it's not too early for you to be thinking about who YOU want to be our neighborhood's leaders and voices. What kind of civic association do YOU want? Don't wait until you get the next NFCCA newsletter because by then it will be too late: the candidates will have been chosen and your chance to participate by nominating or running will have passed.
Originally published in the June 2017 issue of the Northwood News.
© 2017 D.S. Rotenstein
Shortlink for this post: https://wp.me/p1bnGQ-33q