"Black lives matter, alive or dead" — poet Siki Dlanga
Several dozen people participated in a rally and march to support the recognition and preservation of the Moses Cemetery in Bethesda, Maryland. The cemetery initially was founded in the 1880s a nearby District of Columbia neighborhood.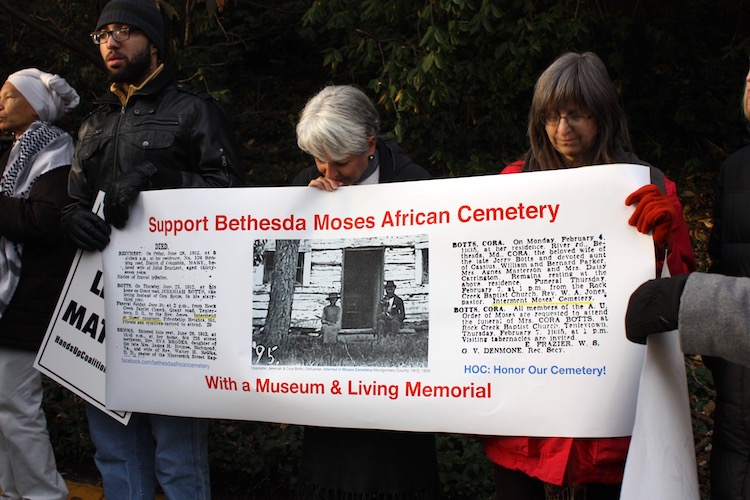 The fraternal organization that established the cemetery faced increasing displacement pressures from white suburbanization in the first decade of the twentieth century and it bought a little over an acre in  Montgomery County's African American River Road community. New burials were interred at the River Road location while District leaders and Congress haggled for more than a decade on legislation that would allow the Cemetery of the White's Tabernacle Numbered Thirty-nine of the Ancient United Order of Sons and Daughters, Brethren and Sisters of Moses.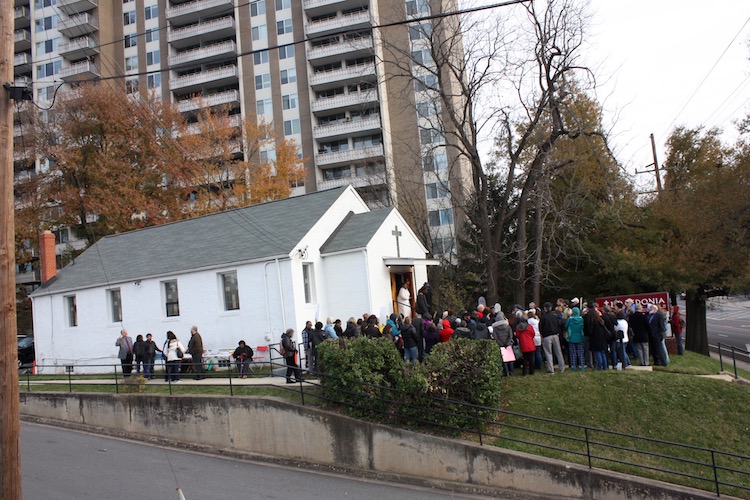 Between 1911 and the 1950s, 500 or more people were interred at the River Road cemetery. Meanwhile, Montgomery County leaders facilitated industrial encroachment on the rural African American hamlet and by the Cold War suburban developers were clamoring for additional properties where the Black community was located. By the mid-1960s, all of the remaining African American residents had been displaced; their cemetery, now owned by a white developer, was graded and paved over for a surface parking lot. Oral histories among the descendant community describe graves being haphazardly excavated by construction workers. Some remains were removed offsite while others were pushed into a trench and covered by fill.
The Macedonia Baptist Church invited me to speak at the rally. I shared the program with faith leaders, artists, and neighbors from throughout Montgomery County and neighboring Washington. The program was opened with song and comments by Rev. Walter Fauntroy.
Here is my statement from yesterday's rally:
My name is David Rotenstein. I am a historian and recovering archaeologist living in Silver Spring. I served two terms on the Montgomery County Historic Preservation Commission and was its chairman for my last year. I have worked in history and historic preservation for more than 30 years. My work includes research, writing, and teaching on African American history, anthropology, and archaeology.

From the cradle to the grave and beyond, Africans in the Americas   travel on two overlapping and crisscrossing trails. One is a route marked celebrations of family, God, and community. The other is a permanent Trail of Tears marked by displacement, erasure, and death at the hands of white neighbors and the police.

It is essential that the Moses Cemetery Trail of Tears end with respect and dignity. This includes protection from development and a thoughtful commemoration by designating the cemetery as a protected Montgomery County historic site and park. It also includes a commitment from Montgomery County leaders to end public policies that reproduce Jim Crow's principle of separate and unequal manifest in planning and the production of history and historic preservation in our communities.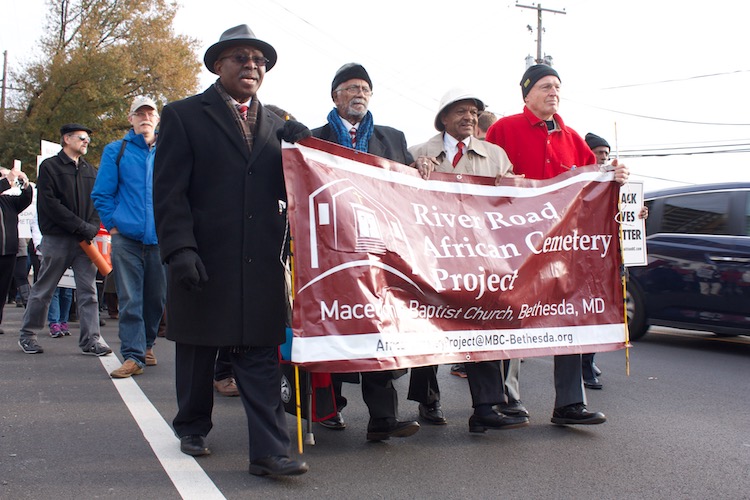 For additional information on the rally and the issues, visit the Save Bethesda African Cemetery Facebook page.
The Moses Cemetery should be a protected historic site — stop the legacy of white supremacy + Jim Crow in county planning @iVernacular @HOCMC #SaveMosesCemetery pic.twitter.com/2UI3YCU9vj

— Caitlin Duffy (@DuffyInDC) November 12, 2017
© D.S. Rotenstein
Shortlink for this post: https://wp.me/p1bnGQ-375