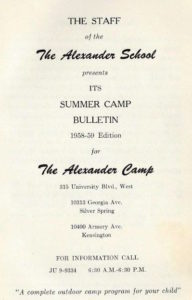 Sometime after World War II a creature moved into tunnels beneath a nursery school and summer camp in the Washington, D.C., suburbs. The children who attended the Alexander Camp called it "Bird Legs."
"There was a legend about a monster called Bird Legs," said Kaye Giuliani. "Scared the hell out of everybody." Giuliani is Ernest Kendall's granddaughter. He founded the camp and nursery school in 1947 after nearly 20 years as the principal of the Capitol Page School in neighboring Washington. I was interviewing Giuliani in her Maryland home about the school and camp's history when she mentioned Bird Legs.
The Alexander Camp occupied a six-acre tract in Silver Spring, Maryland's, Four Corners neighborhood. For much of the last half of the 20th century, the site had been used as a private school and camp. In 1997 its last private owner sold the property to the Maryland-National Capital Planning Commission which had plans to redevelop it by expanding the neighboring North Four Corners Park.
Like much of the property's storied past, the Bird Legs legend quickly faded once Montgomery County razed the school buildings and allowed the grounds to lie fallow for 20 years before completing the park expansion. But to former campers and students, the story lives on in personal narratives and in posts to social media sites.
"[My] memories are packed with stories about the summer overnight jambories [sic.] and the counselors story telling (birdlegs) around the night firepit," wrote one alum in 2011. Continue reading →