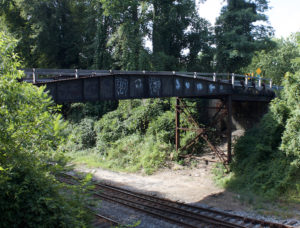 Now that Silver Spring, Maryland's, Talbot Avenue Bridge has a new history can it also have a new future?
Last year Montgomery County officials and many county residents learned that the Talbot Avenue Bridge was more than just some old metal and wood assembled in 1918 by the B&O Railroad spanning the CSX Railroad tracks. They discovered its important ties to the county's civil rights history. Once slated for demolition and replacement to make way for the proposed Purple Line light rail project and closed since April for safety reasons, the bridge's fate is now undecided.
My research into Silver Spring's history as a sundown suburb, a place where people of color were unable to live unless they were domestic servants for most of the 20th century, exposed the bridge's history beyond the Lyttonsville residents I was interviewing for my work. Longtime Lyttonsville residents have deep attachments to the bridge. Residents in the adjacent North Woodside and Rosemary Hills neighborhoods have mixed feelings about the bridge but acknowledge that before last year they knew little about its history. Even County Executive Ike Leggett told me in a recent interview that my research had changed his understanding of Lyttonsville's history and the bridge.
The bridge is contested space where competing interests now collide. There is the newfound interest in the bridge's history that is shared by people well beyond the railroad tracks and the neighborhoods the bridge connects. And, there are the compelling arguments originating in those neighborhoods: some folks in North Woodside want the connection closed to reduce cut-through traffic and people on both sides of the tracks make a strong case for keeping the crossing open to vehicular traffic, including emergency vehicles.