The Silver Spring drum circle reconvened last Saturday night. My BlackBerry (and its crappy camera) and I again wandered over to the drummers after catching the great show put on by Chicago blueser Joanna Connor. Note to self: Carry a real camera in Downtown Silver Spring.

Joanna Connor is a competent guitarist who hails from Massachusetts by way of Chicago's Halsted Street. I first interviewed her after show a she did at Atlanta's Blind Willies in January 1991 and I wrote a few articles on her that year. She was riding high on the release of her debut album and was poised to break out of the blues bar niche where she had found a comfortable home. Although she can still wield a mighty axe and pull off covers from Robert Johnson and Led Zeppelin (covering Kansas Joe McCoy and Memphis Minnie's 1927 Levee Break Blues), and her signature cover of Aretha Franklin's Dr. Feelgood remains a crowd pleaser, Connor hasn't matured beyond the bar band leader she was nearly two decades ago.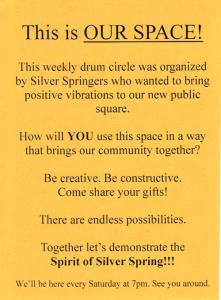 The Silver Spring drum circle, however, does appear to be evolving (if not musically, into an identity). It's now staking out turf for a nebulous community (a lot like te fuzzy pics my BlackBerry shoots. Really, I can blame the equipment) in Downtown's space by printing flyers declaring the new Veterans Plaza to be OUR SPACE, thereby continuing the trope begun by Silver Spring Regional Center director Reemberto Rodriguez in his blog posts and public presentations on how the new space is searching for an identity. On this theme, I really liked Montgomery County Planning director Rollin Stanley's latest blog post on the challenges faced by the new space and the pitfalls of creating culture.
Shortlink for this post: https://wp.me/p1bnGQ-a7