[See below for updates to this post]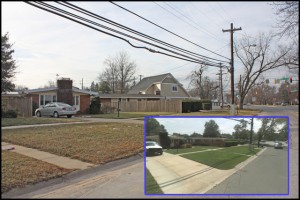 Teardowns and mansionization are a nationwide problem and Montgomery County has few regulatory controls to prevent property owners from demolishing older homes and building new houses that are out of scale and character with neighboring buildings.
Although Montgomery County has a historic preservation ordinance, not all old homes are historic and there are few tools currently available to residents to prevent speculators from building McMansions like the one under construction in my Silver Spring neighborhood.
Starting in 2006, the National Trust for Historic Preservation began promoting a toolkit on teardowns and mansionization. Among the references are some visual guides. There are  several terms applied to houses identified as "McMansions" in the Trust's "Teardowns Glossary": faux chateaux, starter castle, and big box Victorian. None of these terms truly captures the bricolage of stylistic elements attached to the surfaces of these buildings so I began calling them Cliffs Notes houses.
Cliffs Notes houses are buildings that are out-of-scale and character of the settings where they are built. They draw from a wide array of architectural vocabularies and present them in greatly abbreviated expressions: Revival styles (Colonial, Tudor, Mediterranean), Craftsman/Bungalow, Victorian, and even modernist styles. Elements are sampled from these historical sources and are reconfigured in the exteriors of single homes. For example, a single Cliffs Notes home may have a Queen Anne tower attached to a main block that features a clipped gable roof with false half-timbering details, quoining, Italianate window surrounds, Palladian windows, and a Greek Revival full-height front porch.
Teardowns and McMansions of all shapes and sizes are common throughout Montgomery County's affluent neighborhoods like Chevy Chase and Potomac. But as a 2006 Montgomery County Planning Department report shows, teardowns are becoming widespread throughout all of Montgomery County's southern suburbs.
Since last September, workers have been transforming a lot at the corner of Dennis Avenue and University Boulevard West in Silver Spring into a new Cliffs Notes home. Up until then, the 7,636-square-foot lot had been occupied by a 936-foot one-story frame house built in 1952.
Located in Silver Spring's Four Corners area, the lot was part of a farm owned by Charles and Virginia Clements. In 1951, the property was carved up to create the Northwood Knolls subdivision. Maps published in the mid-20th century show the suburbanization of Four Corners with the appearance of subdivisions like Northwood Park (1936), Indian Spring View (1937), Fairway (1934), and Woodmoor (1937).
By the early 1940s, the subdivisions off of Colesville and Bladensburg (now University Blvd.) roads were well established. Transportation and public utilities infrastructure dissected the former agricultural landscape and sales within the early subdivisions were so successful that developers, like Northwood Park's Garden Homes, added adjacent tracts for more homes.
The earliest homes in the 1930s subdivisions were modest 1-1/2 and 2-story revivals (Colonial Revival, Cape Cod, and Tudor) popular throughout the United States. These homes were built with young professionals with families as targeted homebuyers. House sizes and prices were geared towards middle-income first-time buyers.
Later homes, built in the 1950s and 1960s, were one-story ranches and ramblers. Streetscapes in the Four Corners subdivisions still reflect the modest building scales and styles that developers and builders were marketing to young professionals looking for first homes financed by mortgages backed by Federal Housing Administration.
According to Maryland state property tax records, the lot at the corner of University and Dennis was assessed in 2008 at $386,430. Typical of all teardowns, the land ($293,230) was worth far more than the building ($93,200) on it.
After the 1951 subdivision, the property at the corner of Dennis and University was sold in April 1952 to Benson Investment Company, Inc., along with nine adjacent lots in the Northwood Knolls subdivision. Owned by Morris Benson, the Benson Investment Company paid for the lots with a $7,500 mortgage and it borrowed an additional $9,700 for development.
After building five homes along Dennis and University, in 1953, Benson sold five of the undeveloped lots along Dennis Avenue to Rosewood Homes, Inc. Rosewood had bought many of the other Northwood Knolls lots from the Clements family at the same time that Benson bought its lots.
Rosewood built one-story brick houses it called "Belvedere" ramblers on its lots along Dennis Avenue (then it was known as Belvedere Boulevard). Advertisements for the new homes touted them as houses "with all the extras, located in a fine luxury neighborhood, in close-in Silver Spring." Selling points were proximity to schools, retail, and public transportation. The streetscape the company created in 1952-53 remains intact.
The Benson Investment Company homes built what it called "Northwood Ranchers." A 1952 Washington Post ad shows the company's model home: the house at 415 University Blvd. West. Benson described its homes as "3 bedroom contemporary homes" with "advance design, combined with thoughtful site planning." In addition to three bedrooms, each home had a fireplace and a dining ell, finished basement, tiled bath and a kitchen outfitted with the latest appliances, including a garbage disposal. Benson was selling its houses starting at $15,950.
Many of the Benson houses stayed on the market for more than two years. The first house sold in 1954 and it was on Dennis Avenue, one lot in from University Blvd. The house at what later became 415 University didn't sell until October 1955.
The teardown house's first owners were Lawrence and Zelma Lee Sweeney. They financed the house through a mortgage that was not filed with the Montgomery County Recorder of Deeds. Lawrence died in 1961 and his widow sold the property. Between 1955 and 2009, the property had six owners. The last owner to live in the house at 415 University defaulted on the mortgage and the property was foreclosed. In 2010 the Bank of New York sold the property to United Investments, LLC, for $209,000.
Residents of the North Four Corners neighborhood recall the teardown house as an unremarkable building. Several people who responded to an email query sent to the neighborhood association's listserv described the 1950s house as non-descript. Several commented on the appearance in the mid-2000s of a masonry and metal fence with gates that one writer described as "quite ugly and incompatible with the neighborhood."
Most of the people who responded to my email query were satisfied with the scale and style of the new Cliffs Notes home. Several people wrote that the new home, with its architectural embellishments, would be an improvement to the neighborhood. One person wrote about the porch columns, "The new columns in front of the house are distracting as they don't look like anything I've ever seen."
Another person, who declined to be quoted by name, wrote about the new house:
It's not a bad house in and of itself… And compared to other fill-ins I've seen… the monster with the turret on University just down from Woodmoor … but then that Victorian door…. With that vaguely Craftsman look–they're trying. However IMHO the house is just too large in proportion to the yard. Frankly, I wouldn't want to be virtually sitting in the intersection. It kind of looms, especially since the surrounding houses are those low profile houses.
My reading of the new Cliffs Notes house is that it looms over the existing homes built after the creation of the Northwood Knolls subdivision and that its architectural bricolage — side-gabled roof, atypical Craftsman porch posts, massive shed dormer, false queen post trusses in gable ends, and mixed window types — securely qualifies it as a McMansion.
According to a spokesperson for builder Stony Creek Homes, the new house's style is unique. In a telephone interview, he explained how his company decided to finish the house in what he described as a "cross between craftsman and bungalow" styles. The spokesperson explained that the teardown was necessary because of termite damage to the older house.
Besides the issue of the new Cliffs Notes home's architectural incompatibility with the surrounding neighborhood, there are environmental and economic issues raised by the new out-of-scale house. These issues relate to energy, affordability, and aging in place:
Embodied energy waste. The 1952 home had embodied energy. According to the National Trust for Historic Preservation, this is "the energy required to extract, process, manufacture, transport, and install building materials." The total embodied energy for the new Cliffs Notes house includes the resources expended to demolish the teardown, remove the waste, and construct the new house. Preservation architect Carl Elefante, a Montgomery County resident who serves on the county's Zoning Advisory Panel, is a nationally recognized expert on embodied energy. He coined the now popular phrase, "The greenest building is … one that is already built."
Larger homes have greater energy requirements. Although the new 1076 square-foot Cliffs Notes home is being built roughly in the same footprint of the earlier house, it has greater floor space than the teardown and there are more rooms to heat and cool. The new building may use some energy efficient appliances and construction techniques, but I doubt the house being built conforms to LEED Platinum standards.
Artificially inflated property values. The new home at 415 University Blvd. West will go on the market in early 2011 with a price tag in the upper 500 thousands to the mid-$600 thousand range, according to Stony Creek Homes. If the property sells for $575 thousand, that is nearly $200 thousand more than its last assessed value. Adjacent lots with 1950s homes may be more vulnerable to teardown pressures after the new Cliffs Notes home sells in the estimated price range. As the number of moderately priced homes diminishes, Montgomery County faces further erosion of its middle class. Professionals like public safety employees, teachers, and government employees who might be able to afford a $390,000 home would be left looking elsewhere if more Northwood Knolls homes were to become teardowns.Also, more homes with higher values mean higher property taxes. This could displace existing residents unable to afford the higher taxes.
Barriers to aging in place. Montgomery County, like the rest of the region and nation, has an aging population. Cohousing in residential communities and institutions has become less desirable and Montgomery County recently has begun looking at how to make its communities more conducive to aging in place. The older one and 1.5-story houses are more architecturally compatible with an aging population that larger two or 2.5-story houses. Also, seniors on fixed incomes would be faced with economic challenges paying taxes and for maintenance on a house like the new Cliffs Notes home.
Based on the replies I received from the informal email query sent to the neighborhood listserv, the Cliffs Notes home under construction at the University and Dennis intersection does not appear to be a concern to current residents. Attitudes may change, however, if more of the older building stock is torn down to make way for additional McMansions or if more incompatible infill houses are built.
Although there are many old homes in the neighborhood, there is not sufficient integrity for a large historic district that would provide some aesthetic and environmental protections for the existing building stock and landscapes. Besides historic preservation, other tools identified in the 2006 Montgomery County Planning Department report on teardowns and mansionization include building height amendments to the zoning ordinance; neighborhood conservation district legislation; proposed stormwater management amendments; and, the creation of overlay zones.
Neighborhood conservation districts may hold the key to stemming the tide of Montgomery County teardowns. According to a 2003 National Trust for Historic Preservation Preservation Law Reporter article, conservation districts are created in neighborhoods "with a distinct physical character that have preservation or conservation as the primary goal." The article continues,
Although these neighborhoods tend not to merit designation as a historic district, they warrant special land use attention due to their distinctive character and importance as viable, contributing areas to the community at large. Accomplished through the adoption of a zoning overlay or independent zoning district, neighborhood conservation districts provide a means to protect character-defining streetscapes in older areas threatened by new development or governmental policies that undermine rather than encourage neighborhood preservation.[1]
Sometime down the road, my neighbors may elect to explore creating a conservation district to protect the community's character: the features of the neighborhood that drew its initial owners and occupants to own property and live there. Fortunately, a modest historical record survives that documents how the North Four Corners subdivisions were created, to whom they were marketed, and who has lived in neighborhood for more than 75 years. What attracted owners and occupants historically are the same amenities that continue to draw residents to North Four Corners: affordability, access to schools, retail, transportation, and well-built homes with character and stories to tell if anyone is listening.
The subdivision where I live, Northwood Park, is the largest and oldest in the community. Platted in 1936 by Garden Homes, Inc., it is full of ordinary homes in a common twentieth century suburb. Some notable exceptions, however, include the only licensed 1939 World's Fair Town of Tomorrow home. A neighboring 1950s subdivision is one of only two single-family housing cooperatives built in Maryland under 1950 amendments to the federal Housing Act. We have a neighborhood association that has been active for more than half a century and our buildings, streets, and open spaces provide the occupants and owners who have moved here, been born here, and died here with the raw materials for community building.
Efforts to preserve community character in Montgomery County may be assisted by a Planning Department with new development and review standards rooted in a new form-based zoning code. As the region's economy bounces back from the recession, it is impossible to speculate what teardowns lie ahead and what the community and planners' responses may be.

Update: Feb. 18, 2011: One of the last photos I took before pulling out of Silver Spring for my move to Atlanta was of the house at Dennis and University. It was sporting a large banner that read: "BUY THIS HOUSE". A now-former neighbor wrote to me in an email that the house is on the market for $649,000 — along busy University Blvd.; at a bus stop; and, catty corner from a funeral home.
Note
1. Lubens, Rebecca, and Julia Miller. "Protecting Older Neighborhoods Through Conservation District Programs." Preservation Law Reporter 21 (2002-03): 1001-1043.
[Cross-posted on Greater Greater Washington, Jan. 6, 2011]
Shortlink for this post: https://wp.me/p1bnGQ-IS