What would you do if you lived in a dense urban neighborhood that is zoned R-60 (a single-family residential district) and your neighbor had nearly 30 chickens, two ducks, an adult turkey, three pygmy goats, two dogs, two cats, a turtle, and some fish?
If you are one Decatur resident, you'd file a complaint with the city. Tanya Floyd is an environmental attorney who lives behind Realtor Stacy Reno. After finding evidence of rats that she had not seen previously, Floyd complained to Decatur officials that Reno's animals were creating a nuisance.
The complaint touched off a feud between the two neighbors that has spilled out from their yards and onto the Internet. Reno has tweeted about the disagreement and she has written about it on her blog, The Crazy Chicken Lady.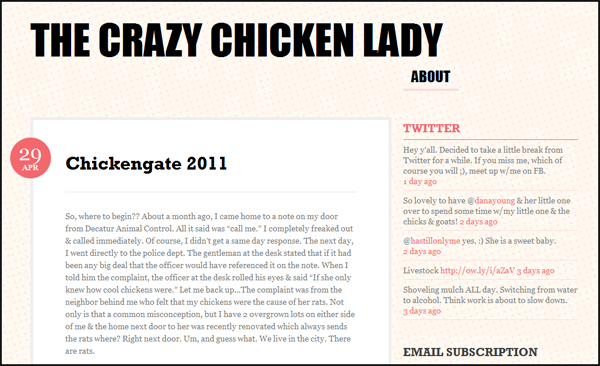 One of AOL's hyperlocal news sites began covering the flap after Decatur officials originally told Reno to get rid of her goats. The city soon rescinded the violation it issued because a 2000 municipal ruling defines goats as "companion animals," not livestock. I began covering the matter for the Decatur-Avondale Estates Patch last week and my first article was published yesterday.
From the street, Reno's 1920s wood frame bungalow doesn't look like a farmhouse. The house needs a fresh coat of paint and the grounds could use some maintenance. But, there are no hints of Reno's brood other than the occasional sounds coming from the turkey or chickens. Sometimes when the driveway is clear chickens can be seen wandering near the gate. Other than those hints, there are no barnyard smells evident on a cool spring morning.
Reno's livestock numbers have gone down since neighbors first became concerned about the conditions after hearing roosters crowing at all hours of the day and night. In April she gave away the three roosters and a cat killed one of the ducks Reno had been keeping in a wire dog crate. Another home for the remaining duck was found last week.
Although Reno harvests eggs from her chickens, the animals serve no economic purpose. She doesn't plan to slaughter any of the birds and the goats are pets. Commenters on Reno's blog and in her Twitter timeline laud her sustainability but does having a large brood of animals in the middle of a thriving urban neighborhood equate with sustainability?
There's no denying that Reno's children and their Oakhurst neighbors benefit from the educational opportunities afforded by the animals. Reno takes them to school and she readily lets children feed and play with the animals.
But what about Decatur's health and sanitation codes that limit livestock to larger parcels and that require adequate setbacks between chicken coops and animal pens and neighboring residences?
Attorney Floyd thinks Decatur's law is clear and that a reasonable person would read it and find that Reno's property is a public nuisance. In a letter to Decatur's mayor and city commissioners, Floyd wrote that Reno's property violates
Code Section 14-32 by creating public nuisances due to the large number of animals (3 livestock (goats) and approximately 50-75 fowl) residing on a small parcel within the City creating loud noises (24/7 crowing of roosters within 25-31 feet of my home – which were removed after Animal Control Officer Cantrell's visit) and noxious odors from the feces of so many animals.  Additionally, the poor feeding habits (i.e. multiple food containers located on ground within 25-31 feet of my home and throwing of food along my fence line) have been a significant cause in my encountering a rat infestation problem and increase of flies.  While there are rat issues in the City, the addition of free ranging hens laying eggs around the abutting property and the placement of food for the fowl directly on the ground within 25-31 feet from my home are believed to be the significant cause of my current rodent problems according to my professional rodent exterminator.
Animals in cities are nothing new. I've written on urban stockyards and slaughterhouses and animal byproducts industries. The reasons why homeowners don't want livestock in proximity to their homes are many and compelling.
As the push towards more sustainability puts pressure on local officials to relax the restrictions on livestock in residential neighborhoods, communities need to ensure that there are clear lines demarcating where sustainability and farming begin and where pet keeping ends.
Update: Read the follow-up to my original Patch article.

Update: Read the Storify posts about covering this story:
Trouble in the Patch (5/05/2011)
Patch Reports on Decatur Citations, Fails to Disclose Role in Community Flap (5/10/2011)
Update: The City of Decatur ordered Reno to abate multiple nuisances at her property (5/10/2011).
Shortlink for this post: https://wp.me/p1bnGQ-W3