When it comes to evaluating impacts to historic properties, why are historic preservationists so hung up on views from roads? What about views from railroads and other heavily traveled transportation corridors?
I've often wondered why architectural historians and others evaluating impacts to historic buildings, structures, and landscapes by construction projects limit themselves to looking at how a proposed project will look from the road.
This is an issue I have tackled myself in impact studies I've done for various regulatory compliance projects under Section 106 of the National Historic Preservation Act and regulated by local historic preservation ordinances.
Back in 2005 while working on a proposed cell tower project I evaluated the impacts to a Civil War battlefield using points on roads through the area of potential effects and along an antebellum railroad corridor now used by a Virginia commuter rail line. The question of why railroads are excluded from impact studies reemerged for me last week as I listened to preservationists argue for a "partial preservation" option (e.g., a facadectomy) for the First Baptist Church of Silver Spring based on the perceived success in preserving the façade of Silver Spring's Canada Dry bottling plant.
Every time I hear the Canada Dry project invoked by preservationists and planners I cringe. Unlike Silver Spring and Montgomery County historic preservation advocates, I think the Canada Dry project was a design success but a historic preservation failure.
Why?
Because the most stunning views of the Canada Dry building rapidly disappeared as condominiums and parking decks were built between the historic plant and the former B&O Railroad tracks and Metro's Red Line tracks. Between 1946 and the first decade of the 21st century, the Canada Dry building was Silver Spring's gateway landmark visible to B&O and later Metro riders as they entered the community. Now all riders see are parking decks and new condominiums; the Canada Dry building is no longer visible from the railroad.
Adaptive use of the former Canada Dry building is laudable but the preservation outcome is dubious. Montgomery County's preservationists and planners took the least insightful and least creative path towards preserving the property. It's  a pretty site (and sight), but its industrial history has been erased and replaced by a decontextualized facade that conveys little information about the building's past. As historian Duncan Hay recently wrote in the National Trust for Historic Preservation's Forum Journal, "Industry has been scrubbed clean" from the property.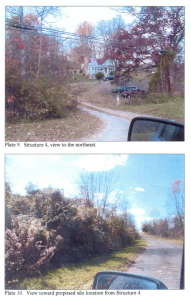 There is nothing preventing preservationists from adding another dimension to their impact studies other than a fear of trains and a reluctance to make a complete break from the windshield survey model. After all, you can't photograph viewscapes and viewsheds from the air-conditioned comfort of your car if you are shooting what train passengers would see if a new building, highway, bridge, or yes, communications tower, were to be built adjacent to a rail corridor.
With a little imagination, however, a historic preservation surveyor could have a little fun with the project by buying a train ticket and developing approaches to capture video or photos that illustrate the area of potential impacts from the perspective of the commuter or long-distance traveler. And I can attest from more than 25 years of experience shooting photos in highway rights-of-way, a railroad is much safer than a highway.
By excluding railroads from impact studies, preservationists working in the regulatory world are applying a narrow reading to the laws under which they are doing the work. Take Montgomery County's historic preservation ordinance [PDF]. It requires applicants for historic area work permits to ensure that their projects "not substantially alter the exterior features of an historic site or historic resource within an historic district."
That statement is interpreted by Planning Department staff and by the Historic Preservation Commission to mean mainly exterior facades visible from public rights-of-way, i.e., roads. In fact, "streets" are the only type of public right-of-way mentioned in the department's Web-based guidance for potential HAWP applicants. Many local jurisdictions and federal agencies go so far as to specify that changes to historic buildings must not be visible from the public right-of-way. This invariably means streets.
Although I served two full terms (6 years) on the Montgomery County Historic Preservation Commission, I never once heard a case that took into account views of historic properties from railroad corridors despite the fact that Metro and MARC riders passing through Kensington, Silver Spring, Takoma Park, and Rockville would have seen the end-results of HPC-regulated projects.
Historic preservation needs to get out of the street and onto the rails to ensure that the evaluation of adverse effects to historic places is truly comprehensive. Historic preservation commissions and state historic preservation offices need to ensure that railroad corridors are afforded the same deference as streets and highways in historic preservation regulatory reviews.
© 2011 D.S. Rotenstein
Shortlink for this post: https://wp.me/p1bnGQ-108