In the spring of 1979 the South Decatur Community Council, a volunteer group credited with helping revitalize the area now known as Decatur, Georgia's Oakhurst neighborhood, raised serious concerns about gentrification and displacement. "Gentrification, Speculation, Displacement, Investment Potential. These will soon become common terms as more and more home buyers discover South Decatur," wrote the organization in its April 1979 newsletter.
As gentrification has taken hold in Oakhurst over the past decade or so, the SDCC's concerns have materialized in ways the organization could not have conceived. Not only has Oakhurst become whiter and more affluent than it was in the 1970s, it also has become less tolerant of people once welcomed by the community. More than 30 years ago South Decatur's community leaders called on their elected and appointed officials to maintain housing, ethnic, and economic diversity in the neighborhood. Instead, their entreaties fell on deaf and disinterested ears, according to many of those leaders who still live in Oakhurst and others who have moved away, propelled by the loss of diversity they foresaw.
Oakhurst has become a bastion of white privilege where new residents are imposing their values on the community in ways that are deconstructing it building by building and person by person. McMansions punctuate streetscapes once defined by modest vernacular homes and young, mostly white families with strollers and children in tow jockey for sidewalk space while walking to the revitalized business district's hip outdoor eateries and drinking establishments. The community's  email list carries the usual queries about local contractors, lost pet announcements, and yard sales. These are interrupted, however, by occasional class-laden debates like the one in early 2012 about whether a Family Dollar store is appropriate for a long-vacant commercial property that once housed the neighborhood's only grocery store.
Now before Oakhurst residents gin up a virtual lynching party because they think I'm calling them racist, that's not what I'm saying. I'm suggesting that they exhibit what legal scholar Barbara Flagg describes as the "transparency phenomenon." White people, according to Flagg, are born with the privilege of not having to think of themselves in racial terms on a daily basis. "Whites appear to pursue that option so habitually that it may be a defining characteristic of whiteness: to be white is not to think about it." Transparency, then, writes Flagg,
Operates to require black assimilation even when pluralism is the articulated goal; it affords substantial advantages to whites over blacks even when decisionmakers intend to effect substantive racial justice. [3]
White privilege is a package of unearned assets that remains unrecognized by its holders. That privilege allows whites a certain hegemony that includes residential mobility, educational choices, and access to power. It is systemic and it gives holders the power to reshape cultural landscapes like Oakhurst.[5] Legal scholars, like Wildman, Flagg, and others have deftly shown that the privilege attributed to whites may be found in other social groups, e.g., heterosexuals, males, etc., and can manifest itself in the ways people in these groups interact with women, gays, and others.[6]
Longtime residents, like former Decatur mayor Elizabeth Wilson and former community leaders like William Denton, lament the resegregation, diminished diversity, and wholesale destruction of the cultural landscape that gave Oakhurst its sense of place. Wilson continues to live in Oakhurst; Denton, however, moved away as soon as he retired in 2000. "From our point of view, we were glad that we were leaving South Decatur at that time because it definitely wasn't the kind of diverse community that we had enjoyed," Denton said in a Skype interview.
The teardowns and mansionization had already begun by the time Denton and his wife sold their Adams Street home. "By the time I retired in 2000 and we left the area, the place was nowhere like it had been," he said. "People were moving in, buying the houses, putting a lot of investment into them. Putting second stories on them, expanding them in different ways or just simply razing them and building new houses."
Were the new homes compatible with the existing neighborhood? "The new construction was not especially compatible with the neighborhood as it had been," Denton explained. "Oakhurst was basically – historically it was sort of a suburb of small- to medium-sized bungalows, I guess you would call them."
Concerns about the city's failure to preserve affordable housing, protect diversity, and the community's character are shared by many people who still live in Oakhurst. Most of the people who fall into that camp do not engage in public discourse on the Internet and are excluded from municipal public outreach campaigns because of communications and transportation issues. People who have lived in the neighborhood for as long as 40 years say that "the new white people are not like the old white people." It's not a compliment. Elderly African Americans living next to and near teardown sites ridicule the scale and architectural embellishments prominently featured in the new homes wedged into small lots and which loom over neighboring homes. They complain that no one in authority has asked for their input on the direction the community has been heading for more than a decade. Community leader Joy Provost wrote elsewhere on this blog, "I think we will look back at the period between 2005 – 2015 and point to Oakhurst as a place of poor planning and development."
Mention displacement and gentrification and most people conjure up images of low-income inner-city disadvantaged people. Walter Griffin defies that stereotype. Earlier this year, Griffin arrived home on Ansley Street one evening and found that his life was about to change.  A prolific area builder's sign in a neighbor's yard tipped him off. "I came home to a big Thrive sign in the front yard," said Griffin in an interview one month after he moved out of his Oakhurst home.
Griffin talked to the neighbor with the sign and found that the neighbor had sold the property to Thrive Homes, LLC, an Atlanta-based builder known for tearing down older homes and building larger homes with exterior architectural details the company touts as "historically inspired." "He felt really bad about it. He knew how I felt about, you know, the large homes and he felt really bad about it. But he really wanted to get out," explained Griffin. "The home was in really bad shape and he was just unable to do much to it at that point so he really felt trapped into selling to Thrive Homes."
Over the past decade, Decatur's Oakhurst neighborhood has experienced a building boom as the rest of the area and nation suffered under the recession and housing crisis. Fueled by high demand for new homes with access to Decatur's well-regarded school system, builders like Thrive have been buying up distressed properties, tearing down small mid-twentieth century homes, and building large homes that many say are out of scale and character with Oakhurst.
The anticipated Thrive teardown next to Griffin was one of three the homebuilder had planned for Ansley Street, a road historically known for its gentle uphill curve from Oakhurst's business district to the Agnes Scott College area. Many of the homes along Ansley, like Griffin's and his neighbors, were built after World War II ended when capital and building materials flowed freely to house returning veterans.
DeKalb County land records document that Griffin's former lot and its neighbors to the north and south were subdivided in the 1920s and again in 1939. Since at least 1915, much of the property on the southeast side of Ansley Street had been owned by Mrs. Cora G. Raden and her husband, William, a meat market manager and farmer.
In 1920, Cora G. Raden sold Flora E. Garland (c. 1880-1945) the property. There is some documentary evidence to suggest that the Radens were divorced in 1920 and William may have married his wife's sister, Carrie. William and Carrie Raden were living on Adair Street in Decatur, according to the 1930 U.S. Census. Flora and A.R. Garland likely moved into the Craftsman-style home at 424 Ansley Street. A.R. Garland died prior to February 1924 and in 1926 his widow Flora had 424 Ansley Street subdivided into six lots. J.B. Stephenson bought the lots a decade later in 1936 and he had them resurveyed in 1939; the 1939 plat was filed in DeKalb County's land records.
Griffin's former home nor its neighbors are not individually recognizable as carriers of significant historical information and as character-defining elements in a historic landscape. As a group, however, they contribute to the sense of place that makes Oakhurst a unique neighborhood. The contemporaneous homes, built on similar scales with similar massing, relate to the streetscape in a way that conveys a feeling that is at once intangible yet legible. It is a feeling that Griffin saw eroding as his neighbors sold their homes to Thrive to make way for large new houses.
Griffin's former neighborhood was first platted in the early twentieth century but development was slow to take off, as it did along other Oakhurst streets lined with Craftsman-influenced bungalows and period revival homes. Maps and aerial photographs show diffuse lot coverage before the two decades after the Second World War. The postwar homes were the type easily insured by FHA loans and are now called by many architectural historians American Small Houses because of the movement spurred in 1914 by the establishment of the Architects' Small House Service Bureau.
Georgia's state historic preservation office defines the American Small House as a "small, detached, single-family house." It was conceived as a home that could easily qualify for FHA and VA financing and "to meet critical needs for single-family houses during a period of prolonged economic distress."
Small homes, mature trees, and the gently curving roadway defined Ansley Street's character until the first decade of the twenty-first century. Like other parts of South Decatur, Ansley Street followed the strict segregation imposed by Jim Crow laws until the 1960s when African American families began moving into the neighborhood.
White flight and blockbusting rapidly transformed South Decatur from majority white to majority African American by the early 1970s. The homes built for white families in the first half of the twentieth century were cycled into ownership by African Americans displaced by urban renewal or looking for homeownership in a neighborhood offering new economic and social opportunities.
Ansley Street's housing followed the trajectory of a large number of other South Decatur homes by falling into foreclosure and abandonment. By 1974, when Congress passed landmark housing and urban development legislation, the U.S. Department of Housing and Urban Development had become South Decatur's largest property owner and manager.
Homes like Griffin's and his neighbor at 450 Ansley were distressed and propelling the neighborhood towards blight. In 1975 the City of Decatur became one of 23 cities accepted into a new program created under the 1974 law designed to return vacant and foreclosed homes to private ownership and to spur reinvestment in distressed neighborhoods like South Decatur. Then-mayor Ann Crichton described Decatur's efforts in congressional testimony she delivered in 1979 in her role as chairman of the National League of Cities Community and Economic Development Policy Committee. "The program in my city has been an extremely comprehensive one," Crichton told the House Subcommittee on Housing and Community Development.
We improved two parks, which are the two major parks in that area; a complete sidewalk network; water improvements; drainage improvements, which were a severe problem for the residents of the area; street lighting; even a street sweeping program.

In fact, what we have done is gone in and taken one small area and worked very intensively. This is our forth [sic.] year in that area. We are in our second 3-year strategy. One element of the broad array of tools, as I mentioned, is the urban homesteading program. [7]
The Urban Homesteading Demonstration Program allowed qualified applicants to enter a lottery to buy homes for a dollar. The dollar homebuyers were qualified for low-interest loans to rehabilitate the houses and bring them up to code. In Decatur, 113 dollar homes were sold between 1976 and 1982.  Although Griffin's home wasn't one of the urban homesteading sites, his neighbor's home at 450 Ansley, the home that sprouted the sign that led to Griffin's move out of Decatur, was one.
In 1980, Ricky Harris became an urban homesteader when he bought 450 Ansley for a dollar. Harris owned the home until 2001, well beyond the minimum three-year occupancy required by the program. He sold it for $218,500.  The Harris urban homesteading home was an 873-square-foot building constructed in late 1948 or early 1949 by the same real estate investor who built Griffin's home. Its first owner, John N. McClure, was a Grady Hospital physician when he bought the new home.
Griffin knew none of this history before deciding to buy his Ansley Street home in 1996, shortly after the Olympics. "It was really affordable at that point. I loved the architecture. I loved the people here," he said. "It was a bit rough, but it had a really good feeling to it. It had a diverse group of people in it. It just was a beautiful area."
A second-generation GSU grad, Griffin was fresh out of school when he bought the house. "I really liked it a lot and I could afford it," he explained.
Griffin's home was 964-square feet. "Small. Cute. Bright. Wonderful views, wonderful views from the front and the back yard," he said describing the house. "The big, large oak trees – that's one thing I really enjoyed about it the most. But it was small. It was a small, little house. It was all I needed, though, since I'm just one person living there."
The house was one of three built by J.H. Campbell. Campbell in September 1948 bought three of the lots J.B Stephenson had subdivided in 1939: 446, 450, and 454 Ansley Street. Between the fall of 1948 and early spring 1949, Campbell constructed three one-story frame houses and he sold them for $6,500, $7,200, and $7,300.  Herschel Frank Chewning bought the home that Walter Griffin moved into nearly half a century later. Chewning was a Georgia Railroad electrician and his wife, Joel, was a law firm's office secretary. The couple lived there for a decade.
Griffin was attracted to Oakhurst because of its affordability and because of its cultural and natural landscape. "Large oak trees with old, small, quaint cottages at that point," is how he remembers Ansley Street when he moved to Oakhurst.
Within a decade of moving to Oakhurst, Griffin began noticing changes around him. The small houses were being torn down to make way for larger homes and the people were changing. Once a neighborhood that celebrated its age, ethnic, sexual orientation, and economic diversity, Oakhurst was gentrifying and the people around whom Griffin lived began changing, too.
"I didn't like it at all," Griffin explained about the teardowns and mansionization. "And then I started seeing the change in people. I saw more – I don't know what the word is — suburban-type people moving in. And it started worrying me. It just seemed to be becoming less diverse, a less diverse area and more and more suburbanites moving in."
In the 1990s gays and lesbians were courted by the city and some of its organizations, like the Oakhurst Presbyterian Church, to help repopulate Oakhurst with people who would invest in the community. Oakhurst Presbyterian Church pastor Nibs Stroupe loves to tell interviewers about his calls for gays and lesbians to join his congregation thinking that it would bring whites back into the church. Instead, he learned that Atlanta has a thriving African American gay and lesbian community. But nonetheless, he achieved his diversity goals by adding new members to the struggling church.
Griffin said that there's nothing inherently wrong with what he calls "suburbanite people." He prefers, however, the diversity that Oakhurst had before the newcomers came and began tearing down the older smaller houses and moving into the new larger homes. "I just liked the diversity of the area before all of the suburbanites moved in."
I asked Griffin what he meant by diversity. He replied, "Gay, straight, white, black. Just a group of different people." He added, "And I guess I felt more comfortable in a diverse area. I felt more comfortable being myself in a diverse area. I don't feel comfortable in that area any more. I just feel kind of out of place."
Griffin sought diversity, as he defines it, in Oakhurst. "I'm a gay male," he said. Some of the new neighbors began making him feel uncomfortable. "One of the new neighbors made gay reference – swishing hands – seemingly behind my back. I saw him doing that when I was talking," Griffin admitted. "So that certainly, that was the first time that I really felt uncomfortable and maybe it was my own insecurity but I just felt after that point, all these new people moving in just – I just didn't feel like I fit in very well."
Oakhurst's loss of diversity weighed heavily on Griffin as he contemplated the teardowns and new McMansions next door. "I just hated the thought of living next to a huge house that's going to be looking onto my backyard and it's just going to be out of proportion and I just absolutely hated it," he said.  He added,
At first I was like, "Well, maybe it won't be so bad. Give it a chance." And then I learned the house next to it was going to also be torn down and I just thought at that point, I'm just going to get out.
Griffin is not a historic preservationist. In fact, when advocates attempted in 2007 to get Oakhurst designated as a local historic district, Griffin was on the sidelines. Yet, he is dismayed by the loss of the older homes and the incompatibility of the new, larger homes. "I just hate it," he said of the new homes. "They are so out of proportion and so out of character to the architecture in the area. It's just sad and depressing to see it."
I asked if he thought they were McMansions and Griffin replied,
Well you can call them whatever you want. They're out of proportion to the homes already here. I moved here because of the quaint cottages and the wonderful architecture and I'm not an architectural expert by any means but I can easily see they're just grossly out of proportion to the lots that they're on and to the other homes in the area. It's just completely out of proportion and it's just ruining the area. It's just ruining the character of the area so much.
Like many current and former Oakhurst residents, Griffin thinks city policies encourage teardowns and new construction to provide single-family homes for families with children coming into the City Schools of Decatur. "I think it's just a tragedy for this area to be getting so many of these large homes," Griffin lamented. "I'm sure they could have done something. But the number of the homes that are coming into the area now is just frightening and they just don't seem to be doing anything at all."
Oakhurst is rapidly gentrifying. Most people associate gentrification with the voluntary and involuntary displacement of the economically disadvantaged and ethnic minorities. Griffin is neither, yet Oakhurst's teardown trend and gentrification drove him from the neighborhood he called home for more than 15 years. About moving from Oakhurst in March he said it was, "Just a profound sadness." And, he added,
It's been my home for so many – it was my home for so many years. I just hate to see it changing. It's like losing a good friend, you know, something that's been a part of me for so many years. It's just a profound sadness, just real depressing. And hopelessness.
Read more about gentrification and its impacts in Oakhurst in these posts at other sites:
And, for a sociological analysis of regentrifying neighborhoods that once courted gays that are now being populated by more conservative, less tolerant residents who are creating conflicts for gay and lesbian residents, Paula Doan's 2011 article, "The Demise of Queer Space? Resurgent Gentrification and the Assimilation of LGBT Neighborhoods," is a good source:
In the past forty years, gay and lesbian populations have established a visible presence in many cities, but recent gentrification has put pressure on LGBT (lesbian, gay, bisexual, and transgendered) neighborhoods. This article uses a case study of the Atlanta metropolitan area to examine the effects of resurgent gentrification on LGBT neighborhoods. The study finds that rising housing values have dispersed the LGBT population, and former LGBT neighborhoods have become less tolerant of LGBT people and the businesses that anchor the LGBT community. The article considers ways that planning practice might seek to preserve LGBT-friendly neighborhoods and the people and institutions that depend on them.
Update: I received this email from another Oakhurst resident after this post was published (Identifying information has been removed):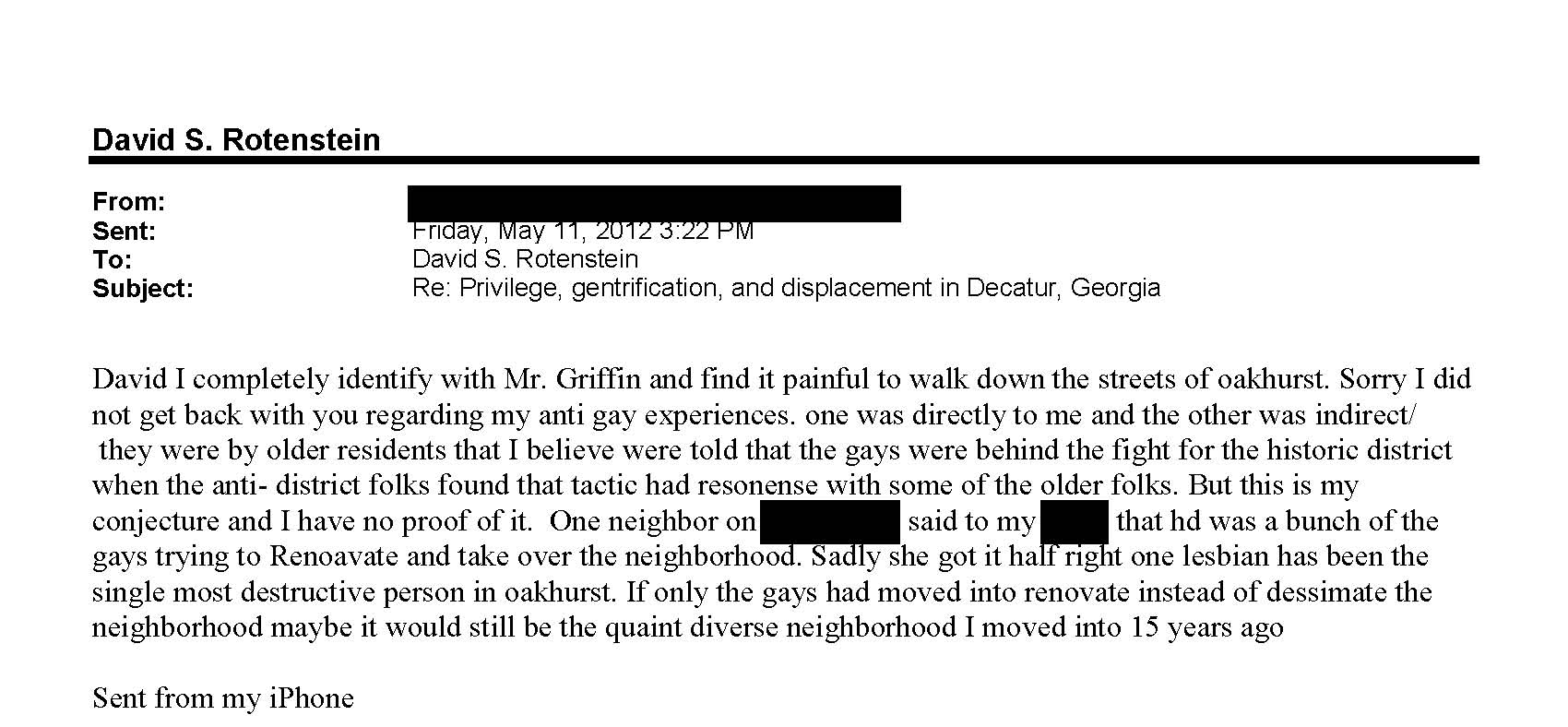 © 2012 D.S. Rotenstein
Notes
[1] South Decatur Community Council. "Editor's Note." South Decatur Speaks, April 1979.
[2] Flagg, Barbara. "Was Blind, But Now I See: White Race Consciousness and the Requirement of Discriminatory Intent." Michigan Law Review 91 (1993 1992): 953.
[3] Ibid.
[4] Peggy McIntosh, White Privilege and Male Privilege: A Personal Account of Coming to See Correspondences Through Work in Women's Studies, in Leslie Bender and Daan Braverman, Power, Privilege, and law: A Civil Rights Reader, 23 (1995).
[5] Wildman, Stephanie M. "The Persistence of White Privilege." Washington University Journal of Law and Policy18 (2005): 245–265.
[6] Bender, Leslie. Power, Privilege, and Law: A Civil Rights Reader. American Casebook Series. St. Paul, Minn: West Pub. Co, 1995.
[7] Ann Crichton, testimony. Subcommittee on Housing and Community Development, Committee on Banking, Finance, and Urban Affairs. House. 96th Cong, 1st sess.
© 2012 D.S. Rotenstein
Shortlink for this post: https://wp.me/p1bnGQ-1jK