Over the past few years Decatur, Ga., builder Clay Chapman has erected a solid reputation as a designer and builder of baronial brick manses. One of his 2011 projects was built in Decatur's MAK Historic District. It drew fire from the city's historic preservation commission and local residents for being out of scale and character with the more modest neighboring historic homes built a century earlier.
Last week Chapman and noted new urbanist architect Steve Mouzon gave a public presentation at Decatur's City Hall on Chapman's latest project: a so-called 1,000-year house built in a lot where just a few months ago a sturdy postwar brick home stood. PR for the new project includes a Twitter account and blog complete with video entries and lots of photos showing construction in progress. The photos below, however, aren't from Chapman's blog. They're from Ruined Decatur.
Chapman's Twitter profile boasts, "We're field testing and filming a new building concept to demonstrate that afordable [sic.], multi-century building is absolutely plausible." And, one of the blog entries ends with this line, "let's bolster ourselves for an immediate opposition to disposable building in Decatur, Ga!"
The blog begins at "Day 1": a cleared lot. According to the Nov. 28, 2013 post,
The location of the build site is just outside Atlanta in the community of Oakhurst, a village within the City limits of Decatur.  Decatur is a progressive town with an ambitious desire for self improvement.  It's richly diverse citizenry and culturally dynamic sensibility provide an excellent platform for introducing the concept of 'affordable, multi-century permanence,' not just in the abstract of ideas and design, but at 100% scale where reality lives and breathes.  The building site is located along an ideal avenue one block from the 5 points cross roads of Oakhurst.
Chapman's blog omitted the true "Day 1" or at the very least Day Zero: the day it took to demolish the existing home at 241 Maxwell Street.
I can't imagine what makes the construction of a hulking brick manor on a modest street already feeling the effects of multiple teardowns and mansionization "affordable," sustainable, or "progressive." The site where Chapman's latest project is set – 241 Maxwell Street – is next door to another home (built in 1940 as part of a truly historic residential subdivision development, Edgemoor) that also was torn down in the Fall of 2013. I also don't understand how Chapman and his supporters can justify disposing of one house just to build another that they dub a "multi-century home." Wasn't that what they just demolished, a multi-century home?

Video produced in 2012 documenting another Maxwell Street teardown and mansionization project.
I received an email from an Oakhurst resident in early December about the two Maxwell Street teardowns. "Two more houses in our neighborhood were scraped while we were out of town for Thanksgiving," she wrote. After I alerted her to Chapman's blog documenting the new construction, she replied with a comment she left on the site: "Seems like complete hogwash that the goal is permanence or sustainability. When the project begins with sending a modest home to a landfill, y'all don't have much credibility in the sustainability or permanence departments." Her comment has not been posted as of this writing.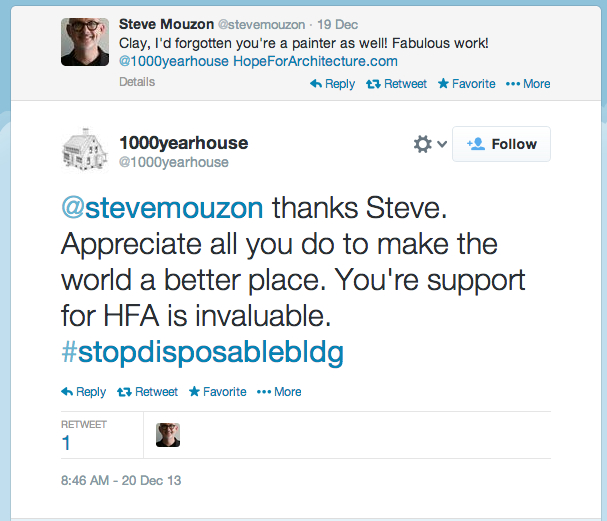 Before last week I had a tremendous amount of respect for Mouzon and his work. He's done some really good, thought-provoking work. His appearance in Decatur last week and his enthusiastic endorsement of Chapman's project has greatly diminished his credibility in my opinion and added to the harm being done in the city's Oakhurst neighborhood where just two months ago the Decatur City Commission held a contentious hearing to evaluate a temporary moratorium on single-family home teardowns.
As for the City sponsoring the Chapman-Mouzon presentation, it shows a clear disconnect with what's occurring in Decatur's neighborhoods. As one elected official in a neighboring jurisdiction wrote about Decatur's land use policies in an email earlier this year, "How can we get citizens involved in the total disconnect btwn elected officials and what goes on in the city's day to day."
February 2014 Update: Read local responses to this post at the Hope for Architecture Facebook page and new urbanist architect Steve Mouzon on the disposability of 20th century suburban architecture: When is a Tear-Down a More Sustainable Choice Than Preserving a Building?
Shortlink for this post: https://wp.me/p1bnGQ-2pn