Antioch. They call it Hibernia now but it was on Atlanta Avenue. I watched my neighbors sell ice cream, fish sandwiches, having teas and dinners, sacrificing to buy the windows and to buy the bricks. I mean they were doing labors of love, you know, and trying to pass it on to the next generation. And when I pass by the building now, it almost breaks my heart because they were working the sweat of their brows, trying to establish a place for this generation. — Sarah Kirk, March 2012.
Sarah Kirk¹ recently drove by an abandoned brick church north of Hibernia Ave. in Decatur, Ga. The 75-year-old Decatur native had heard that the property had been sold. Built for the congregation in which her family had worshipped since the last decades of the nineteenth century, she was struck by the gutted edifice. The building's last congregation, Decatur United Church of Christ, had acquired the property from Antioch AME Church, one of Decatur's oldest African American religious institutions.
Kirk's family were among Decatur's elite African American families in the days before slum clearance and urban renewal. Streets were named for them and celebrations were held in their honor. Their memories anchor the few published histories of Decatur's dispersed African American community. Like the now-demolished Beacon and Trinity schools and other nearby relics of Jim Crow segregation, the former Antioch AME church soon will be consigned to an area landfill. Once the church is demolished, it will be one less link to a quickly disappearing African American presence in Decatur.
I first visited the site with former Decatur mayor Elizabeth Wilson in February 2012. "This is part of Atlanta Avenue, original Atlanta Avenue, which starts back there," she said as we pulled up to the building in her car. "By the way, this is Antioch AME Church."
Atlanta Avenue was black Decatur's Main Street. After urban renewal was completed in the mid-1960s, the Atlanta Ave. segment that passed in front of the church became a dead-end stub leading from Hibernia Ave. Once Atlanta Ave. was closed, the church acquired a Hibernia Ave. address. Looking at it that brisk winter day in 2012, Wilson said, "See they chopped this up."
Antioch AME church was founded in downtown Decatur in 1874. Its site at the corner of Marshall and Cooper streets was absorbed by urban renewal in the 1960s. Decatur's Housing Authority controlled the city's urban renewal efforts in the 1940s and again in the 1960s. On August 25, 1964, Antioch's trustees sold their property to the agency. The deed noted that the transaction included a "one-story brick church building." DeKalb County acquired the former church property from the Decatur Housing Authority and constructed an office building (Callaway Building) and a large surface parking lot.
One month after completing the sale of its former church to the Decatur Housing Authority, the congregation in September 1964 bought two lots at the corner of Hibernia and Atlanta avenues. Construction on the new brick church began a few months later. Elizabeth Wilson still has a commemorative groundbreaking booklet from the January 1965 ceremony.
Everything but Antioch's congregation's spirit and some sacred church artifacts went into a landfill in 1965. Among the salvaged architectural items were stained glass windows and wood sanctuary pews. The windows and pews were purchased during fundraising drives after the church burned its last mortgage. In 1955, a Decatur glassmaker fabricated the windows.
"It was a glass company up on West Howard that made the windows," Kirk recalled in a 2012 interview in her South DeKalb home. "Each organization from the church had fundraisers and on each stained glass window, was the group that paid for the stained glass windows because the windows in the old church were like amber."
When the time came for the congregation to be moved from its historic downtown location, the church hired an architect to design the new building. "The architect in his design fixed it where they could take the stained glass windows and put in the new church, which was really like coming home, you know," Kirk said. "They really got a structural design to fit the windows."
Antioch remained at the Hibernia Ave. site until 1995 when the congregation moved to Stone Mountain. "I was a part of the bricks and the mortar and when I would attend the church in Stone Mountain, but it wasn't the same, you know," Kirk laments. "So it had become a part of me and the transition was not very good for me, to have to go from here to Stone Mountain to go to a church that's called Antioch."
Elizabeth Wilson remembers the church's decision to leave Decatur. "They were unhappy, always unhappy because they didn't feel like it was really their church and so they finally some years ago moved out on South Hairston and then somebody else bought the church," she said in a February 2012 interview outside the brick building.
Like many of the Decaturites who previously worshipped at Antioch, Kirk regularly drove by the church. Kirk admitted, "I don't know the name of the church but I'm tempted to go in on a Sunday morning just to see the windows and the benches."
Kirk's community lost its church – along with their homes, businesses, and familiar public spaces – and with it their attachment to downtown Decatur. Losing the homes and businesses was hard, but the churches that the City of Decatur demolished remain an open wound among former Beacon community residents.
Earlier this year reports surfaced that a local builder was planning to demolish the church to clear the site for 22 new homes. Local blogs noted the proposed development but neglected to mention the site's cherished history among Decatur's African American residents. Decatur blogger Dan Whisenhunt wrote, "The property is formerly the site of Christ Covenant Church, a building that's been vacant and boarded up for months."
True enough, it was the former Decatur United Church of Christ (Christ Covenant) church. But it is so much more than just another "vacant and boarded up" property.
In a January 2014 telephone interview I asked Kirk if she knows what happened to the stained glass windows. She told me that she had offered to buy one before discovering that all of the windows had been removed. "It just broke my heart," she said. Calls and emails to Decatur United Church of Christ were not answered as of this writing. DeKalb History Center executive director Melissa Forgey replied to a text about the windows that she was unaware that they had been removed.
The former Antioch site and its windows' significance are well documented. The church and its founders were prominently featured in Herman Mason's 1988 African-American life in DeKalb County, 1823-1970. The windows were described in an old Christ Covenant Church (Decatur UCC predecessor) website: "In August 1996, we moved into the present church building that was purchased from Antioch AME. The building was built in 1965 and includes a sanctuary with beautiful stained glass windows." And then there are the many narratives preserved by the surviving Antioch congregants.
Decatur whitewashes history as it sends buildings from its African American past to landfills. Despite nearly two centuries of African Americans in the city, there are no officially recognized or protected African American heritage sites. That doesn't mean they don't exist; it only means that the City and, by extension, its residents, don't see fit to acknowledge them. The City's official historic preservation planning document is starkly monochromatic as is its official history website. African Americans and their places are invisible and overlooked. The former Antioch site was excluded from Decatur's 2009 comprehensive historic resources survey.²
Decatur's African American history is celebrated annually every February during Black History Month. In a formulaic way each year, the Decatur Business Association holds an event focusing on African American culture; City newsletters run a few articles; and then, it's back to business as usual until the cycle begins again the following year. Notwithstanding these annual performances, Decatur's African Americans still harbor deep resentment for the loss of their churches, businesses, homes, public spaces, and even the black high school sports trophies that were thrown away (according to some people I've interviewed) after the school system desegregated.
The impending demolition of the church and the removal of its sacred windows is yet another chapter in the systematic erasure of African American heritage in Decatur. On the eve of another Black History Month, the colorblind racism that permeates city hall is magnified by local bloggers and journalists who ignore events and places significant in Decatur's black community. "The development has stirred up some residents in the surrounding neighborhoods," wrote Whisenhunt, the blogger. A little more reporting by Whisenhunt might have uncovered more issues beyond objections to the proposed new land use. Perhaps Whisenhunt might have learned where Antioch's eyes went.
Notes
Sarah Kirk is a pseudonym used to protect the former Decatur resident's identity.
Although the former Antioch church site was less than 50 years old, the generally accepted antiquity threshold used to designate local and federal historic properties, most municipalities, counties, states, and federal agencies evaluate all properties within a survey area to determine if they meet designation criteria, including the criteria for the designation of recent past properties (those less than 50 years old).
###
Related posts: History at Face Value (April 2014) and Antioch's Story, a 2016 post describing how this article facilitated a collaboration between Antioch A.M.E. leaders and the University of West Georgia to collect oral histories and document the congregation's past.
Updates:
April 8, 2014: The developer, Thrive Homes, has begun preparing the church for demolition. Dubbed "Cottage Grove at Hibernia," the new townhomes will "creat [sic.] a gracious and neighborly community."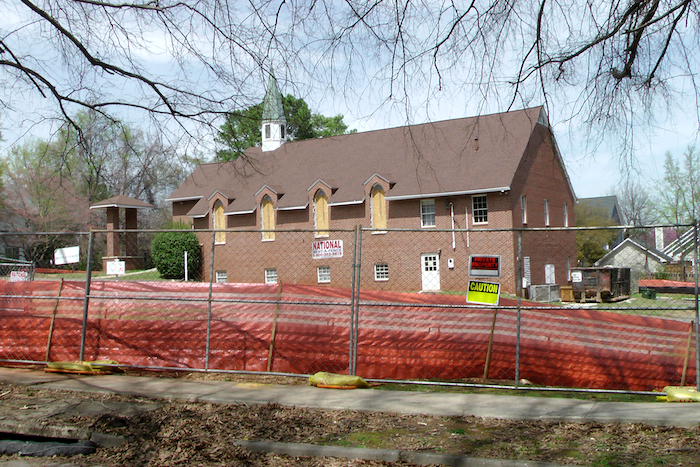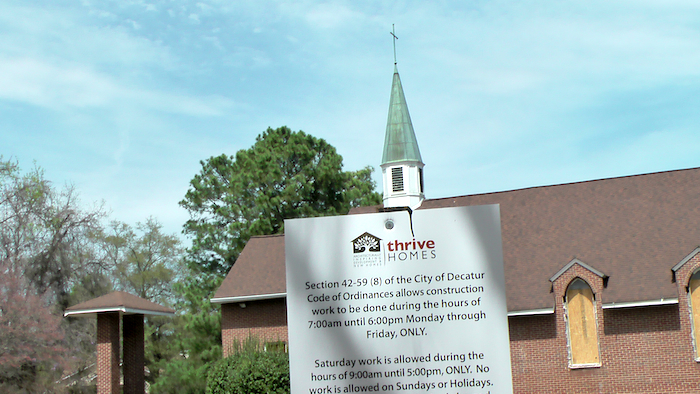 Update: April 18, 2014
© 2014 D.S. Rotenstein
Shortlink for this post: https://wp.me/p1bnGQ-2r8