Look closely and you will see not a damaged and decrepit Mississippi River town, but the anguish and despair of inner-city neighborhoods across the United States. — Steve Goldstein for the Philadelphia Inquirer, Oct. 19, 1992.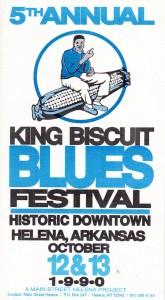 Helena, Arkansas, in the 1980s was a struggling Mississippi River port town when city leaders embarked on an ambitious economic turnaround using blues music and history as its foundation. I first visited Helena in the early stages of this "revitalization" during the spring of 1988 while working as a folklorist for the State of Arkansas. Results of some of my research there were published in a 1992 Southern Folklore article, "The Helena Blues: Cultural Tourism and African-American Folk Music."
Ethnomusicology was the basis for my work in Helena and the subsequent article. Concepts like displacement and gentrification weren't on my radar screen as I turned ethnographic experiences into written accounts. More than 25 years later I look back on Helena's efforts to jumpstart its economy and the social engineering that went into turning the city away from its industrial past and towards its tourism-based future and I see the forces reshaping cities around the world in play in the Mississippi Delta.
I revisited my Helena work as I was writing a two-part article for the National Council on Public History's History@Work site. My article was on the power and politics in play in a gentrifying Portland, Maine, neighborhood and the potential displacement of a blacksmith shop. Forces beyond blacksmith Sam Smith's control were in play determining what would make the neighborhood where he makes a living a safe, attractive, and profitable place once Portland's master plan for the area is implemented.
Portland and Helena are cultural worlds and half a continent apart. Yet, both places tell an urban tale of disinvestment and rebound using similar vocabularies and grammars but with very different dialects. Portland's is delivered with a northern New England accent flavored by the sea and its commerce. Helena's has a blues soundtrack and hails from the cotton fields and pine woods that sent its resources to be floated down the Mississippi River.
A 1992 Philadelphia Inquirer article about Helena carried the headline, "A Small Town in Arkansas wrestles with Big City Blight." Reporter Steve Goldstein described the town's hard times and the ways in which Helena was struggling to regain its economic strength. Goldstein described the arts-based programs — historic architecture and music — Helena officials were adopting with help from outside agencies while training emergency workers to fight fires by torching vacant homes in blighted residential neighborhoods. Fire Captain Tim Snyder told the reporter, "This is how we do our urban renewal." It was a story that could have been set in any number of big American cities.
In 1986, Helena threw its first blues festival. Town leaders called it the King Biscuit Blues Festival after the longtime KFFA radio program that gave many 20th century blues musicians their first broadcast exposure. The annual fall festival is now one of the nation's oldest and most popular blues events.
Blues tourism, combined with Civil War tourism and Helena's residential architecture, make the city a popular destination. Helena's late 20th century turnaround, though, has had mixed results. Downtown has some new businesses along with the Delta Cultural Center. In 2006, Helena and and sister city West Helena consolidated creating a municipality with a little more than 12,000 people and a more diverse economic base. Despite the multi-pronged approach to economic and community development, Helena remains one of the nation's poorest cities according to 2010 Census data and recent photos by Google of its downtown show a central business district in worse shape than in 1988. From a distance, it doesn't appear that blues music has pulled Helena out of its economic funk.
My 1992 article focused on one element in Helena's municipal rebranding and redevelopment effort: blues music and the tourist industry it spawned. Had I turned the work into the doctoral dissertation I had considered writing, I likely would have explored displacement and gentrification beyond the glancing blow I gave the issues when I wrote about how the city was producing a sanitized historic downtown to make the area "safe" for blues music consumers.
After the article's publication several colleagues and professors (I was finishing coursework in my Ph.D. program) commented that I had not been critical enough of the city's redevelopment efforts and the use of the arts in reinventing the city's economy and culture. I agreed with those critics then. Now, after working in cities like Washington and Decatur, Georgia, where gentrification and redevelopment are inextricably tied to municipal image branding and spurious culture, I agree even more that my Helena analysis was too shallow and narrow.
Helena, like Decatur and Portland, is a small city with big city problems. They are global problems of poverty, uneven development, and the use of government's heavy hand to manipulate culture and community for economic returns deemed best for the community. Policies and programs to "revitalize" urban areas are conceived and implemented by cultural power brokers who expect returns on their political and cash capital. These returns on community and economic development investments frequently benefit the privileged few and displace households and businesses in neighborhoods and towns across the globe.
Festivals and other productions are common tools communities use to reboot distressed urban economies. It takes more than a festival or ten to solve a community's problems. In my work on gentrification in Decatur, I will be exploring ways that city leaders try to create what one lifelong area resident described to me as a cradle-to-grave sensory experience with fun festivals and hip restaurants and bars to attract external revenues and blunt the senses of its residents to issues of class and race inequality.
Decatur produces culture for its affluent residents and visitors by importing tons of sand each year for an annual beach party; it hosts wine crawls and a beer festival; and, the city throws what it boasts as the nation's largest independent book festival. All of these efforts are a postmodern production of spurious culture that is displacing the city's genuine culture — its poor, its people of color, its historic buildings and landscapes — simply to invite people to, as local advertising copy reads, "shop, sip, see what's hip."
© 2014 D.S. Rotenstein
Shortlink for this post: https://wp.me/p1bnGQ-2BY