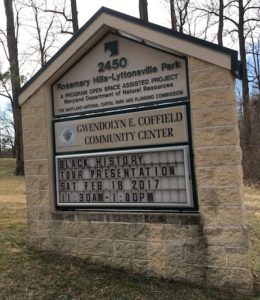 I would like to thank the staff of the Gwendolyn E. Coffield Community Center for hosting me Saturday February 18. And, a big acknowledgement to the Silver Spring residents who gave up a sunny and warm Saturday midday to learn about African American and civil rights history in Silver Spring, Maryland.
The walking tour returns this spring, along with a new local non-profit partner with plans to integrate my history work into its Silver Spring racial equity program. Stay tuned for dates and details.
Charlotte Coffield, the center's namesake sister, was instrumental in arranging the program. I am fortunate to have met Charlotte and the other Lyttonsville residents with whom I have spoken the past year. I am looking forward to learning more about the community's history and the role its people played in Silver Spring's history. Their stories have enriched my understanding of how people of color and their histories are erased from suburbs.
© 2017 D.S. Rotenstein
Shortlink for this post: https://wp.me/p1bnGQ-2YW