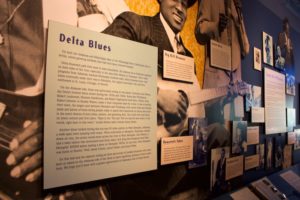 Last week I presented a paper at the 2017 Delta Symposium at Arkansas State University. On the way I spent a couple of days in Helena, Arkansas, revisiting some work I did 30 years.
A high point of the trip was being interviewed by Helena radio personality Sonny Payne on the King Biscuit Time show. Sonny turned the tables on me: I'm usually the one asking the questions and "holding" the microphone. My wife and I had gone to the Delta Cultural Center in-between interviews I was doing with Helena residents. After I re-introduced myself to Sonny, he asked us to sit in on the show. It was program number 17,679!
Here's a clip from the show:
Audio clip courtesy of KFFA's King Biscuit Time.
© 2017 D.S. Rotenstein
Shortlink for this post: https://wp.me/p1bnGQ-30N