Nearly thirty years of archaeology and historic preservation fieldwork have given me a memorable collection of quotations that I've scribbled in various notebooks. One that has stuck with me was posted above the bar in the Port Matilda Hotel in rural Centre County, Pennsylvania: "Language: use it right or you'll be asked to leave."
Another one is, "It's old but it will never go historical." That was how the fourth-generation owner of a 19th-century St. Mary's County, Maryland, tobacco farm described her property as I surveyed it in the summer of 2004. I frequently draw on this quotation when I try to explain to people why seemingly ordinary — vernacular — buildings and landscapes are historically significant. Sometimes I'm successful, many times I'm not.
Throughout my career I have had to grapple with evaluating the historical significance of a range of things from prehistoric camp sites to Colonial farmhouses to Cold War microwave relay systems and entire towns and regions. One of the most difficult tasks in historic preservation is defensibly distinguishing between something that is significant and something that is not.
Historic preservation professionals and regulatory authorities often find it difficult to explain to preservation advocates and the public why seemingly stunning buildings do not meet legally established criteria for designating something "historic." More often, historic preservation debates revolve around the opposite, when preservationists want to designate ordinary, or in some cases "ugly," buildings as historic.
Last year we moved into a neighborhood that in 2007 went through a year-long conflict over whether it should be designated a local historic district. There's nothing particularly stunning about the architecture in our new neighborhood. It's an ordinary, vernacular former streetcar suburb with a diverse array of period revival homes, Craftsman-influenced bungalows, ranch homes, and plain small houses. Local builders and others with a financial stake in the booming real estate market — yes, this is metropolitan Atlanta and it is thriving — mounted a vigorous campaign against designation and the effort failed.
We knew little about this prior to buying our 1925 bungalow. All we knew was that the neighborhood had architectural diversity trending towards the older, historically authentic buildings and landscapes we value, and its residents appeared to be a mix of folks like us — well-educated, middle class, young and middle-aged homeowners — as well as senior citizens and African Americans who had lived in the neighborhood since its desegregation in the 1960s. We value diversity and wanted to live in a neighborhood that had a rich ethnic, economic, and age mix.
Prior to settling on the house we ultimately bought, we made an offer on another, similar house, a few blocks away inside a locally designated historic district. We withdrew that offer because of concerns we had over storm water coming from the neighboring house that had been allowed to get a certificate of appropriateness for a second story addition. Both houses shared a surfaced driveway and the house with the new addition didn't have gutters and downspouts. When it rained, water flowed from the roof into the driveway and across the property line towards the house we wanted to buy. An engineer we hired to inspect the property found serious water-related structural issues with the house so we backed out and kept on looking.
My wife and I found the house we bought just a few weeks later. It is located on a quiet street with other contemporaneous homes: one-story bungaloids and vernacular small houses. There was one new two-story "historically inspired" home built on a teardown site across the street and we were told that it had been built before the city enacted new infill standards.
Two doors down, on the day we tendered our offer, there was a vacant lot where just two years earlier there had been a house built at the same time our new home and its neighbors had been built. By the time we moved in, two months later, a two-story "historically inspired" home had been completed in the vacant lot and the view from our kitchen window was dramatically different from the view we had when we decided to buy the house.
Since moving into our house the first week in September, there have been at least half a dozen teardowns within a quarter-mile. At least three more are planned, according to builders' signs and property owners I've spoken with. Two of the slated teardowns are former HUD urban homesteading sites, properties that are part of an out-of-pocket research project I'm doing that looks at housing in South Decatur and how the 1970s Urban Homesteading Demonstration Program contributed to the revitalization of the neighborhood into which we moved.
Perhaps I'm hyper-sensitive to the markers of a neighborhood that is rapidly gentrifying in ways that I find troubling. Or, it may be that I am disappointed that the very characteristics that inspired us to invest in the neighborhood are rapidly disappearing. Because of the 2007 effort to designate the neighborhood historic, there are raw feelings and much animosity towards historic preservation.
We live in a neighborhood with a compelling history and an interesting built environment. The drive to explore that history and landscape is just part of my DNA. Questioning the existing historical narrative is just part of who I am. I've devoted an entire career to doing historical research for clients and to evaluating the historical significance of old places. Asking me to don blinders and mute my opinions, as some of my new neighbors have suggested I do, when I cross into to my own neighborhood is sad. One person suggested on a local blog that I'm not the type of neighbor they want. Another accused me of suffering from "wealth envy" because I'm critical of the new buildings in the neighborhood.
So how do these events bring me back to the two quotations that have stuck with me throughout my historic preservation career? I feel like I'm in the Port Matilda Hotel bar using language that the locals don't like and I'm being asked to leave. And, regrettably, my home and new neighborhood are old, but they'll never go historical.
Update (March 11-12, 2012):
I had been warned that trying to talk historic preservation in Oakhurst would paint a target on my back. They were right.
The person tweeting as @OakhurstGossip appears to have taken the Oakhurst Neighborhood Association's logo without permission. According to group's spokesperson, "This is not an ONA sanctioned site and I will be contacting them immediately asking them to remove our copyrighted image." When asked if the neighborhood association knew @OakhurstGossip's identity, the spokesperson replied, "A copyright infringement complaint about this account has been submitted.  Thank you David for bringing this infringement to our attention."
And over on Nick Cavaliere's Decatur Metro blog, folks left comments like these posted below. Cavaliere's site is a popular hangout for people to post anything they wish without taking ownership for their comments. Cavaliere himself, a CNN employee and Georgia State University Masters in Historic Preservation degree holder, even posts anonymously by signing all of his posts "Decatur Metro"; he uses the email address decaturite@gmail.com and his name appears nowhere in the blog.
And, shortly after this post was updated, this appeared in Decatur Metro:
"Marty," I'm not sure what planet you live on but none of these people are "allies." At least I showed Angie (Nelliebelle1197) & Jeff (J_T) the decency to omit their last names. By the way, you wouldn't want to identify yourself, would you?
By 9:00 PM, the new comment thread included these posts, including one by Deanne T., a Decatur Heights community activist: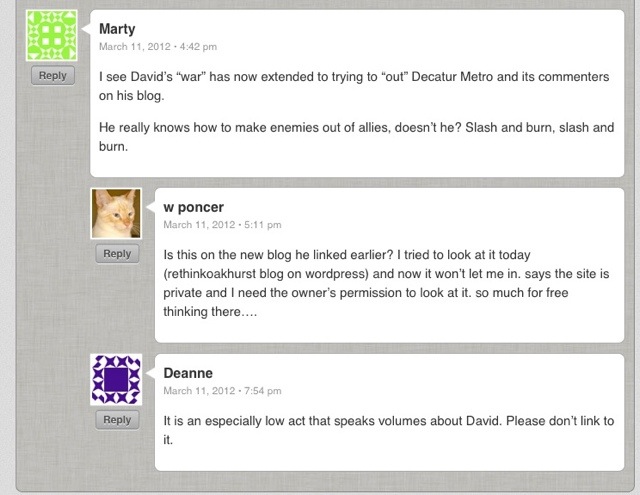 I had an email exchange with Cavaliere in 2011 about anonymity on his site. Here's what he wrote in response to my question about a freelance writer's calls for him to identify himself:
A lot of people know who I am already. Including her. She just wants me to put my name on the by-line. Which I won't. Anonymity allows for all sorts of interesting discussions that wouldn't happen otherwise.
Late in the evening of March 11, 2012, Cavaliere sent me this email:
David, what have you done? If you had an issue with some of the comments made towards you, I wish you had contacted me directly and at least I would be aware and we could have discussed it.

As it is, I'm dealing with a very difficult illness/death in the family and I have only had a very limited amount of time to dedicate to DM the last few days – let alone moderate a million comments. If there's something really egregious that was said please point it out to me. From the back-and-forth I saw, I thought you were giving as good as you were getting.

I don't understand why it needed to be escalated to this level. You've made a terrible weekend even harder for my family.

-Nick
I replied,
I'm sorry for your loss. What your anonymous posters did was go way beyond the bounds of good taste and conduct. We are working with a realtor to sell our Oakhurst house and move elsewhere. This was not what we thought we were buying into. What your commenters did is appalling – they attacked the messenger, viciously, and didn't stick to the merits or lack thereof of the issues.

You wrote on the site that the comments were to have ended yesterday; instead they escalated. If you want to run a site like that and foster the anonymity, then you need to ensure that you babysit your brood. What got posted at your site is but a fraction of the overall damage. Perhaps you would also like to see the hate emails, etc., I received that were not posted.
By 10:00 PM many of the ad hominem posts had been removed from Cavaliere's site. My final letter to Cavaliere is reprinted in this follow-up post.
Update: Cavaliere restored all of the anonymous comments on his blog:

I don't understand why I can raise the issue of teardowns and mansionization in the Washington, D.C., suburbs and have a civil debate on the pros and cons while in Decatur, Georgia, the folks who disagree with any perspective other than their own go straight for the jugular. So much for the myth of Southern civility.
###
Update: In April 2012, several anonymous Twitter handles appeared, created by Decatur residents. They used clever names like @DavesSphincter, @DecaturHulk, and @OakhurstVillain. The latter locked his account down but his tweets are preserved in Topsy.
© 2012 D.S Rotenstein
Shortlink for this post: https://wp.me/p1bnGQ-1bC